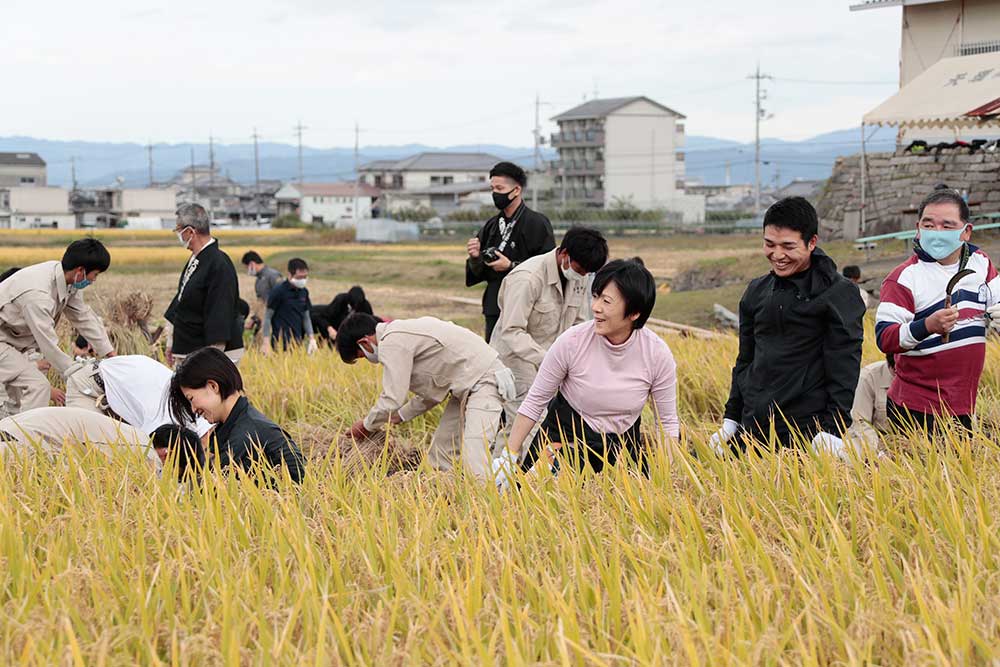 On October 22, Tenrikyo Church Headquarters held its annual rice-harvesting ceremony at Somanouchi Farm, which was attended by the Shinbashira and his wife, Mrs. Harue Nakayama, as well as Successor-Designate Daisuke Nakayama and his wife, Nobue. This traditional event was begun by the second Shinbashira, who sought to let people deeply savor the teachings explained through agricultural metaphors.
This year, the seasonal rain front remained stationary longer than usual and brought a lot of pests to Japan from overseas, causing some rice fields in western Japan to partly wither. Although such pest damage had been a concern at the Home of the Parent as well, the harvest turned out to be as bountiful as usual years thanks to the diligent care provided by many people including Tenri High School's evening course students who work for the Agriculture Department of Church Headquarters.
During the event, Mrs. Harue Nakayama, Daisuke, and Nobue engaged in harvesting rice together with about 150 people including resident officials and staff members of Church Headquarters as well as staff members and students of Tenri High School while the Shinbashira and his granddaughter Masae looked on. Approximately 780 kilograms (1,719 pounds) of rice were harvested from the rice fields with a combined area of 1,700 square meters (2,033 square yards). Mrs. Harue Nakayama, Daisuke, and his family also went to the adjacent field to harvest sweet potatoes.
Toward the end, the high school students bound the harvested rice plants together in bundles and hung them on rice-plant racks for drying. The rice plants would be dried for about 10 days and go through the threshing and hulling processes, followed by the offering of rice to Church Headquarters.