As announced in the August issue of our newsletter, the Tenrikyo newsletter will only be published in electronic form from May 2021. The newsletter, which will be published in PDF format in English, French, and Spanish, will be available for download for free at the website listed below. The same URL and QR code will be posted at the Tenrikyo Official Website at https://www. tenrikyo.or.jp/eng/.
Download page:
https://kaigai.tenrikyo.or.jp/newsletter/
QR code: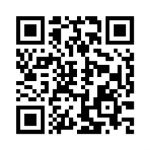 Please be advised that only samples of the electronic version of the newsletter are available at the download page until May 2021.
If your organization has been archiving back issues for an extended period and needs to continue to receive a printed copy for archival purposes, please contact us at en1@tenrikyo.jp at your earliest convenience.