This year's Tenrikyo Hinokishin Day was held on April 29 and blessed with wonderful weather. The theme for this year was: "Overflowing with gratitude and radiating joy: Let's do hinokishin." Followers engaged in hinokishin at various historical sites, parks, and public facilities across Japan.
Home of the Parent
In the Home of the Parent, some 4,500 people assembled into 53 groups in Church Headquarters' Inner Courtyard. Participants included staff members of Church Headquarters as well as students of Shuyoka, the Spiritual Development Course, and Tenrikyo schools.
The event commenced at 8:30 a.m. After everyone paid their respects by bowing toward the Main Sanctuary, the Foundress' Sanctuary, and the Memorial Hall, Director-in-Chief of Administrative Affairs Yoshitaro Ueda gave a short address. Mentioning that the Disaster Relief Hinokishin Corps was active in areas affected by the recent Tohoku earthquake and tsunami, he said, "May our spirited hinokishin efforts in Jiba synergize with the similar spirited efforts made by followers elsewhere today and bring joy to God the Parent." Participants then dispersed to engage in hinokishin at various locations, which included facilities located on the Sanctuary precincts as well as schools and hospitals throughout Tenri City.
Seventy staff members of Church Headquarters and students from Tenri High School living at Minori Dormitory engaged in hinokishin at Tenri Train Station, cleaning windows and signs displaying the train schedule. Yoshinori Yoshida, a junior from Kesennuma City, Miyagi Prefecture—who had been very apprehensive during the days he was unable to get in touch with his family—was highly animated as he worked, saying, "I want to engage in hinokishin spiritedly for the sake of the people in affected areas who are disheartened by the disaster."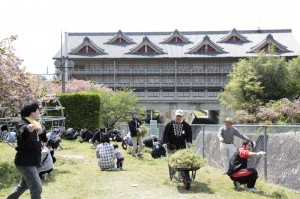 Forty-five students of Shuyoka and Tenri Junior Seminary pulled weeds and did other work along a canal in Toyoi. Among them was a young man from Colombia. Gustavo Vargas is an alumnus of Tenrikyo Language Institute who was inspired to enroll in the Junior Seminary and learn more about Tenrikyo after he had seen students from the seminary engaging in hinokishin at the Sansai-no-Sato youth outdoor activity center. He expressed his gratitude for being able to be active physically with his many companions and stated his desire to further his understanding of the teachings so that he can convince people in Colombia.
Twenty-four students from the English and Nepali classes of Shuyoka helped clean and pull weeds at Shukutoku Community Center in Tenri City. Anita Shrestha, a student in the Nepali class, which happens to be the first session of Shuyoka that has been taught in that language, expressed how thankful she was for the opportunity to learn about the teachings and engage in hinokishin near the everliving Oyasama.
Ishinomaki City, Miyagi Prefecture
Hinokishin Day was also held in areas still recovering from the March 11 disaster. One of them was Ishinomaki City, which is located near the coast and a major river. The city was greatly affected by the tsunami. Piles of rubble still remain to be cleared and roughly 10,000 residents are living in evacuation centers.
The viability of holding a Hinokishin Day activity was discussed at an Ishinomaki District officers meeting in early April. At the meeting, Rev. Kenji Ota, the superintendent of Ishinomaki District, said: "We followers of the path ought to take the initiative and strive to bring joy to people in our community especially in this desperate time. Let us engage in hinokishin just as we have always done with gratitude and joy in our hearts."
The ministers and mission station heads present then went to visit followers in evacuation centers and encouraged them to participate. The site for the Hinokishin Day activity was Izumicho Ryokuchi Park, where followers regularly participate in hinokishin twice a month.
At 8:30 a.m. on April 29, followers assembled at the park entrance. Having being united for the first time since the disaster, they asked one another about their families' well-being. After someone had explained the work that was to be done that day, participants immediately went to pull weeds and clean the park. A total of 60 people participated.
Akira Furuyama, who recently received the truth of the Sazuke, was one of the participants. He said: "My minister encouraged me to make some effort to spiritually mature after I had lost my job as a result of the disaster. I returned to Jiba for the first time in ages and attended the Besseki lectures. I am finally starting to get back on my feet thanks to the support of fellow followers and many others. Now that I am a Yoboku, I'd like to move forward from now on and exert myself for the sake of others with gratitude in my heart."
Head Minister Hikomi Nirasawa of Oka Branch Church brought a non-follower father and son who had taken shelter at the church. The father mentioned how Rev. Nirasawa had helped him and said he "definitely" wanted to participate when he heard about the Hinokishin Day activity.
Rev. Nirasawa said that he was torn up inside when he learned of the passing of several followers and acquaintances. The first floor of his church, where the worship hall is located, was flooded. It was not easy to accept the situation as it was.
Then, two days before the church's monthly service, he received a call from Sendai Grand Church Head Minister Gen'ichiro Kato, who asked: "Will you be able to conduct your monthly service?" Rev. Nirasawa then answered, "I'll do whatever I can do to conduct it."
He went on to say: "On the day of the service, several young men came from the grand church to serve as service performers. Although it was a service conducted on blue tarp, it will be a day that I will never forget. I am using my hinokishin efforts today as an expression of the joy I felt then."
Hinokishin Day Overseas
Hinokishin Day is scheduled to be observed this year in 25 countries outside Japan. Countries and regions that have already observed the event include Brazil, India, Singapore, Taiwan, the U.K., and the U.S.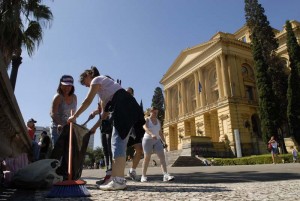 By May 1, 1,168 people took part in Hinokishin Day activities throughout Brazil at 16 venues. On April 21, 680 people helped clean Ipiranga Independence Memorial Park in São Paulo.
On May 1, 21 people gathered at Calcutta Church in India to pick up litter amid temperatures up to 38º C (100.4º F). Also on May 1, roughly 60 followers and students of the Japanese language course run by Tenrikyo Mission Center in Singapore's Cultural Section helped clean Singapore East Coast Park despite light rain. Hinokishin Day was held the next day on May 2 at a park in Johor Bahru, Malaysia.
By May 8, Hinokishin Day activities were held at 11 venues in Taiwan. On May 1, 72 people wearing purple vests emblazoned with "Tenrikyo" on the back picked up litter along streets and in a park near the Mission Headquarters in Taiwan.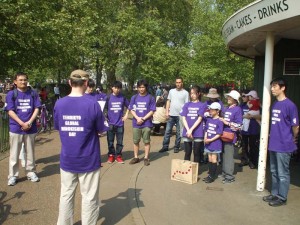 On April 24, 18 people participated in Hinokishin Day at Hyde Park in London, the U.K. After offering prayers in Jiba's direction, participants listened to a message from the Director-in-Chief of Administrative Affairs before commencing hinokishin.
Hinokishin Day was held at various locations in the U.S. on May 1, such as Hollywood and New York. In the latter city, participants have been donating blood annually for many years.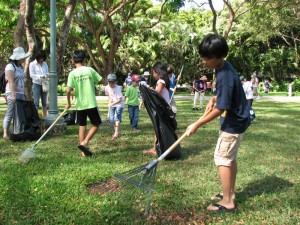 In Honolulu, 156 people, including 42 members of Leilehua High School Band, which visited the Home of the Parent in March this year, engaged in clean-up hinokishin at Honolulu Zoo on April 30.