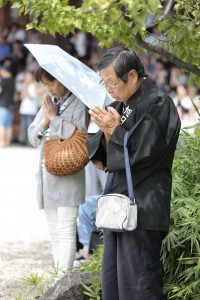 The August Monthly Service of Tenrikyo Church Headquarters was performed on the 26th in the Main Sanctuary with the Shinbashira presiding as chief officiant.
In the beginning of his Service prayer, the Shinbashira touched upon the "knot" on the Kanrodai, saying, "We were shown an unexpected ʻknot' on the Kanrodai that arose on July 26 after the July Monthly Service. We have become painfully aware of God the Parent's stern instruction embodied in the major ʻknot' and critically reflected on our footsteps that had not yet really been in accord with the intention of God the Parent. We also have been firmly determined to further dedicate ourselves to the faith in single-heartedness with Jiba and single-heartedness with God and fulfill our tasks of the path in unity of mind. We decided to replace the Kanrodai in accordance with the replacement of our mind. On August 8, after the ceremony to commence the formal preparations for the replacement, we were able to duly and humbly proceed with the schedule and observe the ceremony to replace the model Kanrodai on the evening on August 24."
The Shinbashira also stated, "We will hold the Seminar for Successors here in Jiba between August 2017 and March 2018 in a total of 25 sessions. I would like to ask You to help participants lead a life of faith joyously and spiritedly every day and make steady progress in their spiritual growth leading to the Joyous Life. We pray that the seminar will go smoothly until its completion."
Further, the Shinbashira said, "We Service performers as well as church head ministers and other Yoboku will critically reflect upon our stance of mind that has taken for granted the preciousness of being able to perform the Service and to follow the path without any interruption, and upon our tendency to be swayed by the current of the times. Each one of us will accept the ʻknot' as our own concern and take the opportunity to bring our mind into accord with the intention of God the Parent and fulfill our tasks of the path."
The prayer was followed by the joyous performance of the Kagura Service and the Dance with Hand Movements.
After the Service performance, Honbu-in Toyoo Tsuji took the podium to deliver the sermon. Rev. Tsuji said, "When the teaching of ʻa thing lent, a thing borrowed,' which ought to be regarded as the foundation of the teachings, is firmly settled in our mind, a sense of gratitude to God the Parent will naturally well up from our heart." He consistently stressed the importance of making repayment for God the Parent's blessings. In particular, he strongly urged our implementation of helping others be saved.