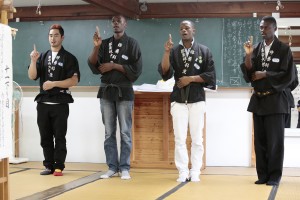 Every year, many followers not only from within Japan but also from overseas attend Shuyoka, the Spiritual Development Course, to learn to lead their lives based on the teachings. In this season leading up to the 130th Anniversary of Oyasama, a total of 65 students from 13 overseas countries and regions completed the 888th session of Shuyoka, during which the English, Chinese, and Nepali classes were held.
Followers come to Shuyoka for a variety of reasons. Tomiko Suenaga, a 74-year-old follower from the U.S. mainland, applied for the English class with her 47-year-old son, Allen, who has been in a wheelchair since 2008 when he had a stroke. He survived the stroke, but he became paralyzed on his right side and unable to utter words fluently. Eventually, he secluded himself from society. Desperately desiring the salvation of her son, Tomiko returned to the Home of the Parent with Allen.
Their classmates were eager to talk to and listen to Allen, patiently trying to understand his feelings even though he had difficulty in speaking. "They gave me energy when I needed it," said Allen. While leading his life in Shuyoka in high spirits, he received a marvelous blessing of salvation whereby he gradually became able to move his right leg, where he had had paralysis since the stroke. By the middle of May, he recovered enough to walk by himself. Tomiko said: "Thanks to the support of the classmates, Allen became spirited and was able to devote himself to Jiba. God the Parent must have accepted their sincerity. Allen and I will never forget this marvelous blessing of salvation."
Bayrtsengel Tsooloi, a 51-year-old follower from Mongolia, came to Shuyoka after being inspired by her family members. Three years ago, she got to know the Tenrikyo faith through the guidance of her neighbor and attended the Besseki lecture for the first time. Deeply impressed with the teachings—which she thought were the true teachings that could save people by helping them change their minds—Bayrtsengel introduced Tenrikyo to her family members in Mongolia. In 2014, her 21-year-old second daughter, Munkh­tsolmon, attended Shuyoka and came back home happy after learning the teachings of the path, which she described as being able to bring about the salvation of mind and body. Since then, whenever Bayrtsengel became ill, her daughter has administered the Sazuke to her. Bayrtsengel also received the truth of the Sazuke two years ago, but she had never administered it. "Like my daughter, I wanted to nurture the mind of helping save others in Jiba," said Bayrtsengel.
Early in May, Bayrtsengel administered the Sazuke for the first time to her classmate from Mongolia, who has been suffering from numbness in his limbs and a headache, both of unknown origin, since he was little. Although his symptoms had appeared to be gone for a dozen years or so, they returned in 2014. It was the homeroom instructor's words of encouragement that helped her administer the Sazuke. Bayrtsengel was very nervous at first, but she managed. After she had finished, he said with a smile that he felt warmth through her hands, which reminded him of his mother. Seeing him make a gradual recovery, she savored the joy of helping save others. She said: "My daughter must have felt the same joy I experienced in Shuyoka. That was why she started to administer the Sazuke to me. Shuyoka provided me with an opportunity to implement salvation work. There is only a little over half a year left before the 130th Anniversary of Oyasama. I want to continue salvation work in Mongolia and make progress in spiritual growth."
On April 25, a 7.8-magnitude earthquake struck the northwest of Katmandu, the capital of Nepal. On hearing the news, Rama Shrestha, a 47-year-old follower from that country, desperately wanted to withdraw from Shuyoka and immediately go home to see her family. She had come to Shuyoka on the recommendation of her husband, who is enthusiastic in following the path. Although she was able to confirm the safety of her husband and children, she felt uneasy when she thought of them. Her dormitory counselor suggested that she perform a prayer service for people in Nepal together with the people in the dormitory. While praying with them for those in disaster-stricken areas in Nepal, Rama managed to change the orientation of her mind. She realized that, having been drawn to Jiba, she ought to do whatever she could in Jiba for people in Nepal. She made up her mind to continue to pray for them and devote herself to Shuyoka.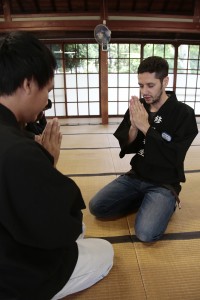 On June 18, Rama received the truth of the Sazuke together with 33 other students in the non-Japanese language classes of the 888th session of Shuyoka. Dressed in the service kimono for the first time, she said: "I have been praying for the salvation of people in Nepal since the day of the earthquake. I have tried to live out the teachings as straightforwardly as possible in Shuyoka. Once I return to Nepal, I want to administer the Sazuke to those who are suffering from illness. In order to do so, I want to spend the remaining days of Shuyoka in high spirits without losing sight of the goal."