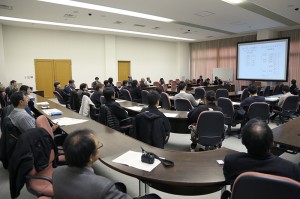 On January 28, Tenri University's Oyasato Institute for the Study of Religion held a special symposium on Tenrikyo's overseas mission in the university's Faculty Research Hall. Held under the theme of "The Religious Situation in Europe and the Tenrikyo Mission," Honbu-in Noriaki Nagao, president of Tenrikyo Doyusha Publishing Company and former head of Tenrikyo Europe Centre, and Mr. Shinichiro Tsuji, a staff member of Tenrikyo Overseas Department, gave lectures.
The first speaker, Mr. Shinichiro Tsuji, began his lecture by giving a summary of the current situation of the Catholic Church. After the resignation of Pope Benedict XVI in February 2013, Pope Francis was elected to lead the church. Mr. Tsuji said: "Pope Francis made significant changes on how to govern the church. One of such changes was his appointment of 19 new cardinals from various parts of the world, such as the Ivory Coast, Brazil, Nicaragua, Haiti, and the Philippines. Instead of selecting cardinals mainly from European nations, the pope named the new cardinals from small, developing nations, sending his strong message of serving the poor." He later added, "Although Pope Francis showed his willingness to make unconventional decisions, that does not mean that he will be making doctrinal changes on issues such as abortion, homosexuality, and celibacy."
Mr. Tsuji then spoke about the International Meetings of Prayer for Peace organized by the Community of Sant'Egidio. For over 20 years, Tenrikyo has sent delegates to these interreligious meetings where delegates from religions around the world engage in interreligious dialogue. Mr. Tsuji said: "The International Meetings of Prayer for Peace serve as venues where participants from various religious traditions overcome cultural and language barriers, build friendships, and deepen mutual understanding and respect through dialogue. Attending these meetings of prayer for peace over many years, the significance of Tenrikyo delegates building trust and relationships with religious leaders should be underscored."
Next, Honbu-in Noriaki Nagao gave a lecture entitled "Tenrikyo Mission in Europe—­Current Situations and Challenges." He first shared his insights on the current situations and challenges in the mission in Europe. In particular, he talked about activities organized by Tenrikyo Europe Centre and Tenrikyo UK Centre and challenges in spreading the teachings in Europe. Drawing on his experience as the head of Europe Centre, he offered suggestions and ideas on overcoming those challenges.
Rev. Nagao went on to explain the importance of promoting and organizing cultural events as well as social activities in the efforts to spread the teachings overseas. He then highlighted various social and cultural activities at Tenri France-Japan Cultural Association, which is located in Paris. Using Japanese language classes as an example, he said: "Our Japanese language school is highly acclaimed by French people. Drawing on the high quality of various facilities in the Home of the Parent, I hope that mission headquarters, mission centers, and other mission bases in various parts of the world will establish schools and other institutions in the future to advance the overseas mission, enabling the path to flourish."