On the afternoon of March 26, Tenri University's Oyasato Institute for the Study of Religion hosted the Tenri International Conference 2010 under the theme "Life, Death, and Dying in Intercultural Perspective." Invited to the conference were three scholars from Slovenia as well as Prof. Susumu Shimazono, who is professor at the Graduate School of the University of Tokyo and president of the Japanese Association for Religious Studies.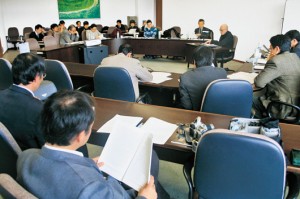 This conference was born out of the relationship between Prof. Midori Horiuchi—researcher at the Oyasato Institute for the Study of Religion—and Prof. Maja Milcinski—professor specializing in the Oriental Studies at the University of Ljubljana, a prestigious university located in central Slovenia. The two professors first met when they attended an academic conference held in India in January 2009. At Prof. Milcinski's request for a workshop with Tenri University, the Oyasato Institute for the Study of Religion decided to organize a conference on the theme "life and death," which is one of the important research topics in religious studies. The institute invited as a commentator Prof. Susumu Shimazono, who has been conducting research on Death and Life Studies for a long period of time.
The conference started off with opening remarks by Prof. Milcinski. "I am hoping that this conference will be a good start for us to deepen the relationship between the two universities," said Prof. Milcinski. "I find it very significant, in terms of religious studies, to hold a conference on this important topic at Tenri University on the day Tenrikyo's Monthly Service was performed."
Session One, "Comparative Perspectives on Death," featured two presentations: "Death from a Tenrikyo Perspective" by Prof. Midori Horiuchi and "Death in Early Modern Metaphysics" by Prof. Miran Bozovic from the University of Ljubljana. In Session Two, "Life and Death in East and West," Prof. Yoshitsugu Sawai from Tenri University and Prof. Milcinski gave presentations, which were entitled, respectively: "Meanings of Life and Death in Asian Religious Traditions: A Semantic Perspective of Religion" and "Death as a Soteriological Problem: Faith, Myth, and Reason."
Prof. Shimazono then made comments on the four presentations and shared his thoughts on life and death: "People's view of life and death has undergone changes in contemporary society. Under the circumstances, the study of life and death plays a critical role in our efforts to tackle the fundamental problem of human existence as to how we should understand the meaning of life and death. The four presentations brought to light philosophies and religious traditions in the East and West, explaining how these thoughts are related to various problems in contemporary society. I believe that today's conference was very meaningful in our efforts to explore new ways of approaching this theme."
After a Q-and-A session that followed, the conference concluded with the closing speech by Prof. Akio Inoue, then director of the Oyasato Institute for the Study of Religion.