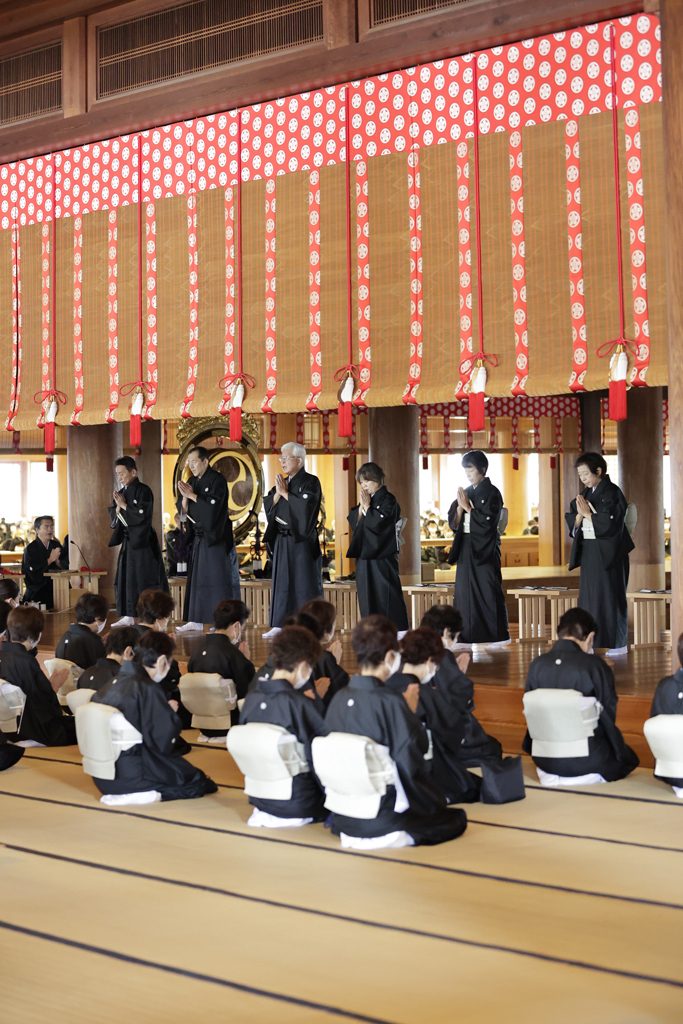 The September Monthly Service of Tenrikyo Church Headquarters was performed on the 26th in the Main Sanctuary, with Successor-Designate Daisuke Nakayama serving as chief officiant on behalf of the Shinbashira.
In the Service prayer, Rev. Nakayama first expressed his gratitude to God the Parent for leading us toward the Joyous Life by providing us with guidance and instructions in each season by virtue of the free and unlimited blessings. He then said: "Having taken to heart Oyasama's Divine Model, all of us followers will seek to gain a clear picture of what is facing today's society as we endeavor to spread the teachings of God the Parent to people around us as well as those in the wider world. We are determined to do our utmost in following the path of making repayment by devoting our sincerity to salvation work as well as constantly providing nurture and care to our fellow followers."
The prayer was followed by the joyous performance of the Kagura Service and the Dance with Hand Movements. After the Service performance, Honbu-in Zenkichi Tanaka took the podium to deliver the sermon.
In his sermon, Rev. Tanaka referred to an anecdote of Oyasama where a young man who was in a critical condition returned to Jiba and was saved by Her. Noting that God the Parent saved him by responding to his sincere determination to return to Jiba with a complete reliance on the Parent's voice, he said, "Dedicating the mind of sincerity to Jiba is precisely what allows us to receive blessings and have our lives be saved, however difficult it may be."
Rev. Tanaka went on to speak about the importance of showing our sincerity in action or other concrete forms by, for example, making daily visits to the churches, doing hinokishin, or making offerings. He then called on the congregation to join him in dedicating the utmost sincerity to the churches, which are to represent the truth of Jiba.