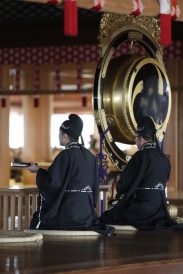 Church Headquarters performed a prayer service on March 3 in response to the worldwide novel coronavirus outbreak. Prayers were offered not only for the earliest possible end to the epidemic but also for the healing and recovery of those afflicted by the virus, for the restoration of the normal life of those who are facing various related problems, and for a settling to social and economic disruption.
The prayer service started at 12:00 noon, with Successor-Designate Daisuke Nakayama leading the proceedings by playing the wooden clappers and Director-in-Chief of Religious Affairs Yoichiro Miyamori assisting him by using the counter. The service was attended by many Yoboku and followers, including Church Headquarters officials and staff members, students of Shuyoka (the Spiritual Development Course), and others living in the Home of the Parent.
Speaking to the congregation prior to the prayer service, Rev. Miyamori said, "The knot we are facing now is shown to us as an illness and trouble affecting many people and society at large throughout the world." He added: "As we ponder over God the Parent's intention, let us followers of the path once again pledge to cultivate the mind of saving others and to play a leading role in implementing mutual help. Let us sincerely perform the daily services and the monthly services in Jiba and in our respective local churches and other places of worship by bringing together the minds of all followers of the path." He concluded his address by saying, "Let us pray together for a settling to the spread of the illness and to related troubles while sending our thoughts to those who are suffering in the current situation."
Meanwhile, prayer services were also conducted at Tenrikyo's mission headquarters, centers, and mission posts, as well as at other Tenrikyo facilities around the world in keeping with Church Headquarters' initiative.