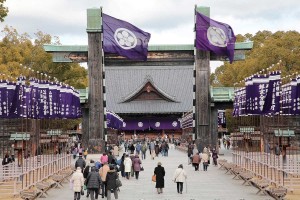 On January 26, the Spring Grand Service commemorating the day when Oyasama withdrew from physical life—namely, the lunar calendar date of January 26, 1887—was performed in the Main Sanctuary of Church Headquarters with the Shinbashira presiding as chief officiant. Approximately 58,000 followers from both within and outside Japan returned to Jiba to attend the Service.
When the appointed time came, the Shinbashira and other Service performers proceeded to the Main Sanctuary after paying their respects at the Foundress' Sanctuary and the Memorial Hall. The Shinbashira then ascended the upper dais, where he delivered the Service prayer. After expressing his appreciation to God the Parent for working for world salvation, he said: "Having once again taken to heart Your intention to save all people throughout the world, all of us Service performers as well as church head ministers and other Yoboku will keep in mind the Divine Model at all times, proactively convey the joy of faith to those around us, starting with our own family, and implement a way of living based on a genuine sense of mutual help, so that we can make progress along the path of spiritual growth toward the Joyous Life with our minds in unison."
The prayer was followed by the joyous performance of the Kagura Service and the Dance with Hand Movements. The followers, having filled the Worship Halls, the Corridors, and other areas in the Sanctuary precincts, joined together in singing the Mikagura-uta, the songs for the Service. The Service concluded shortly before 2:00 p.m., the hour Oyasama withdrew from physical life. After he began delivering the sermon, the Shinbashira paused for a moment to offer a prayer in the direction of the Foundress' Sanctuary at the sounding of the daily siren that signals the hour.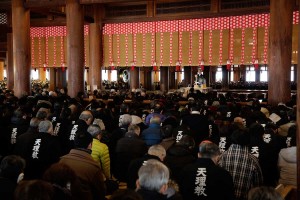 In the first half of the sermon, the Shinbashira, by referring to The Life of Oyasama, explained the historical background at the time of Oyasama's withdrawal from physical life and the intense dialogue conducted between Oyasama and the first Shinbashira until the early followers brought themselves to perform the Service.
In the second half of the sermon, he touched on the construction of the stone Kanrodai before going on to share his thoughts on the major "knot" on the Kanrodai, which occurred last July. He said: "[The knot] appeared to tell us that we were lacking some connections among our hearts. I saw the incident as God's instruction for us to become one in mind." The Shinbashira concluded his sermon by saying, "Let us develop a sense of solidarity among ourselves and make steady progress toward that goal, taking one step at a time, in unity of mind."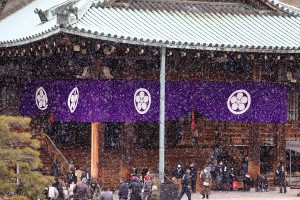 Over 300 people from overseas countries and regions, including about 200 people from South Korea, returned to Jiba for the Spring Grand Service. The Shinbashira's prayer and sermon were interpreted simultaneously into six languages: English, Chinese (Mandarin), Korean, Portuguese, Spanish, and Nepali.