Responding to the March 11 earthquake and tsunami disaster in northeastern Japan, Tenrikyo Church Headquarters immediately established Tenrikyo Disaster Relief Headquarters (headed by Director-in-Chief of Administrative Affairs Yoshitaro Ueda) to organize and coordinate Tenrikyo's relief activities effectively.
In view of the staggering number of people who were missing in the wake of the tsunami, a daily prayer service was performed in the Main Sanctuary of Church Headquarters at 12:00 noon on March 12, 13, and 14, with the Shinbashira, Zenji Nakayama, leading the service by playing the wooden clappers and the former Shinbashira, Zenye Nakayama, assisting him by using the counter. Meanwhile, prayer services were also conducted at Tenrikyo's mission headquarters, centers, and posts as well as at other Tenrikyo facilities around the world.
Since March 15, Tenrikyo Disaster Relief Headquarters has been accepting donations to two funds: "Tenrikyo Disaster Relief Fund" and "Support Tenrikyo Disaster Efforts." As of May 10, "Tenrikyo Disaster Relief Fund" had received 3,445 donations totaling 298,453,792 yen (about US$3,660,000) and "Support Tenrikyo Disaster Efforts" had received 2,472 donations totaling 220,945,651 yen (about US$2,710,000). Information on how to donate to these funds can be found on Tenrikyo International Website (https://www.tenrikyo.or.jp/eng/?p=614).
Between March 19 and 22, the Disaster Relief Headquarters delivered monetary donations totaling 30 million yen (about US$368,000) to the prefectural offices of the three hardest-hit prefectures—Iwate, Miyagi, and Fukushima—where coastal cities and towns were devastated by massive tsunami waves. At the time, 235,000 evacuees were living in shelters in these three prefectures alone, and more shelters were being set up in 13 other prefectures to accommodate the growing number of displaced persons. Given the severity of the situation, Tenrikyo Disaster Relief Headquarters made arrangements to provide shelter for 3,000 evacuees in Church Headquarters' facilities and followers dormitories in Tenri City.
Some Tenrikyo churches and mission stations in the affected areas—despite having sustained damage themselves—served as temporary evacuation centers for people in their communities in the wake of the disaster. Thanks to the relief supplies that were collected and delivered by Tenrikyo followers, these churches and mission stations were also able to set up emergency kitchens to feed the evacuees as well as local residents, who were without water, gas, or electricity.
In the immediate aftermath of the catastrophe, the news media highlighted the serious shortages of water, food supplies, blankets, and fuel in the affected areas. Taking the disaster as their own concern, a great many Tenrikyo followers proactively sprang into action by collecting badly needed supplies and delivering them to the region. For example, on March 13—only two days after the disaster—members of Kako Grand Church in Hyogo Prefecture set out for the area with a water truck containing two tons of water and a two-ton truck packed with 824 blankets, 120 kilograms (265 lbs.) of rice, 1,300 towels, and many other items they had promptly collected from followers and community members. On the 16th, followers from Nagoya Grand Church made their way to the disaster area with a two-ton truck and a four-ton truck filled with bottled water, food supplies, cooking devices, and various items to help protect evacuees from the freezing cold. Basing themselves in churches in Miyagi Prefecture, they distributed supplies and meals to residents in the neighborhood and a home for the elderly. Followers from Saitama Diocese distributed three tons of water in Miyagi Prefecture on March 14 and cooked 2,000 bowls of udon noodles for people at an evacuation center on the 16th.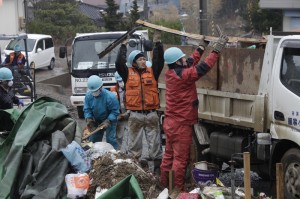 Tenrikyo Disaster Relief Hinokishin Corps also swung into action following the disaster and has been continuing to send members to participate in relief and recovery activities ever since. In Iwate Prefecture, the corps immediately consulted prefectural authorities and set up its base of operations at a municipal facility in Tono City, which has good transportation access to the coastal areas. Beginning their official relief activities on March 20, the corps members were asked to assist Self Defense Force members in running an emergency kitchen at an evacuation center in Kamaishi City. They also delivered meals to the houses of elderly people who were living alone. Between March 21 and 24, they sorted relief supplies that had reached a volunteer center in Tono City and delivered them to evacuation centers and residents in Kamaishi and Miyako cities and Otsuchi Town. From the 25th, the corps members embarked on full-scale recovery operations along Kamaishi City's main shopping street, where the tsunami had destroyed shops and toppled telephone poles. In conjunction with the Self Defense Force's efforts to restore the road, the corps members used heavy machinery such as power shovels to remove wreckage and debris from the roadside and worked to restore damaged public facilities. Between March 26 and April 4, they also operated soup kitchens at four evacuation centers in Rikuzentakata City, where one-third of the downtown area had been flooded by the tsunami. On March 29, the corps members removed mud from a child support center in Kamaishi City and have thereafter been working to restore public facilities in the city. From April 12 to 23, some corps members were dispatched to Noda Village, located in the northern part of the prefecture, to remove wreckage and debris using power tools and machinery. As of April 30, a total of 3,625 corps members had taken part in relief and recovery activities in Iwate Prefecture.
In Miyagi Prefecture, the members of the Tenrikyo Disaster Relief Hinokishin Corps based themselves at the Miyagi Diocese Office in Sendai City between March 17 and April 1, while distributing water not only in Sendai City but also to coastal areas that had been devastated by the tsunami. On April 2, the corps moved its base of operations to the coastal city of Higashimatsushima, where the members cleared mud from the roads in an area measuring two kilometers square (about 1.2 mi. sq.). The mud, which was 20 centimeters (about 8 in.) deep, was then loaded onto trucks and transported to a dump located six kilometers (3.7 mi.) from the site. In the intervals while waiting for the trucks to return from the dump, the members responded to local residents' requests for help in removing sludge as well as damaged furniture and electrical appliances from their homes. They also removed mud and mountains of wreckage left by the brutal tsunami from a road connecting the area with the city's coastal district. On one day alone, they used four two-ton trucks to remove 30 loads of mud and one four-ton truck to remove four loads of wreckage, including 100 damaged tatami mats. Some of the corps members took the initiative to visit an evacuation center in the evenings to help cheer up the evacuees' children by playing games and singing songs with them. On April 18, the corps members set about full-scale recovery work in Kesennuma City, which had also been devastated by the tsunami. They are using power shovels and dump trucks to demolish the remains of destroyed homes and remove wreckage from the area. On May 1, they also began to restore a public junior high school that had been severely damaged due to its proximity to the coast. A total of 1,590 corps members had been involved in relief and recovery activities in Miyagi Prefecture as of April 30.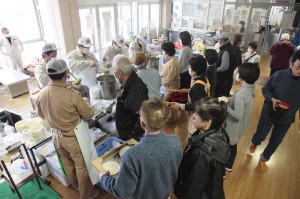 In Fukushima Prefecture, corps members distributed water between March 17 and 19. In mid-April, the corps set up a base of operations in Inawashiro Town, from which the corps members are operating soup kitchens at various locations in Fukushima Prefecture. A total of 284 members had taken part in relief activities in Fukushima Prefecture as of April 30.
Supporting these activities as of April 30 were a total of 512 corps members who kept the bases of operations in the devastated prefectures supplied with goods and materials required for the corps's relief and recovery activities.
The Shinbashira made three visits to the disaster area to offer his condolences to the residents and give encouragement to Tenrikyo followers involved in relief and recovery activities in the region. He visited Iwate and Miyagi prefectures from April 6 to 8, revisited Miyagi Prefecture on April 20 and 21, and visited Ibaraki and Fukushima prefectures on May 5. Besides paying visits to Tenrikyo diocese offices, churches, and mission stations, he also went to recovery operation sites to encourage the members of Tenrikyo Disaster Relief Hinokishin Corps.
On April 8, Nara Prefecture sent its sixth medical team—consisting of eight staff members of Tenri's Ikoi-no-Ie Hospital—to Kesennuma City in Miyagi Prefecture. Basing themselves at a local junior high school, an officially designated evacuation center sheltering 188 people, the medical team spent five days examining and treating evacuees as well as making house calls to people in the neighborhood.
On April 12, Tenrikyo Disaster Relief Headquarters dispatched staff members of Tenrikyo Boys and Girls Association Headquarters to the disaster area. Their assignment was to conduct a variety of recreational activities at evacuation centers in the hope of cheering up the children staying there. Between April 12 and 14, they visited six evacuation centers in Yamagata Prefecture.