Tenrikyo Young Men's Association Headquarters held the 24th International Cultural Seminar on the afternoon of April 26 at Moya 38, with the participation of 192 people.
This seminar aims to heighten association members' awareness of the overseas mission, provide relevant information, and encourage directly supervised chapters to conduct more activities related to the overseas mission.
After the opening remarks were delivered by Association Headquarters Overseas Section Head Shinichiro Yasumura, presentations were given by an association member who had just returned from Colombia as a member of the 10th Human Resource Overseas Dispatch Program and representatives from the Koriyama Chapter, who introduced their activities in Taiwan.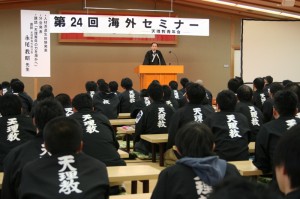 Tenrikyo Overseas Department Vice Head Noriaki Nagao then gave a lecture entitled "Direct Tenri Young Men's Energy to the World." He started by saying, "Through my 25-year dedication to Tenrikyo Europe Centre, I became convinced that the teachings of the path are truly amazing." He went on to touch on the teachings of a variety of religions including various Christian denominations and Islam as well as their current situations.
After referring to past and recent conflicts between religions, Rev. Nagao noted: "Oyasama said, ʻAt any Shinto shrine or Buddhist temple, pay your respects and then chant Tenri-O-no-Mikoto.' That kind of attitude toward other religions is, I believe, the only way to bring harmony to interreligious relationships."
He then talked about his passion toward the overseas mission while sharing his own experience of serving at the Europe Centre. "It becomes increasingly important to obtain a perspective of the ʻworld mission,'" said Rev. Nagao, adding: "Let all of us Yoboku unite in conveying and spreading the teachings widely to people in the world. I am especially counting on young people like all of you here."