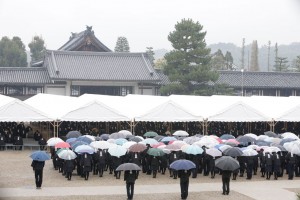 The 50th memorial service for the second Shinbashira, Shozen Nakayama, was solemnly observed on November 14 at Church Headquarters with the Shinbashira presiding as the chief officiant.
Attending the ceremony were members of the Nakayama family and their relatives, Church Headquarters' resident staff, head ministers of directly supervised churches, diocese superintendents, general church head ministers, Yoboku, and other followers.
The service began at the Main Sanctuary, where the Dance with Hand Movements was performed to the Eight Verses of the Yorozuyo and the Twelve Songs.
Thereafter, the Shinbashira changed into his kyofuku robe and proceeded to the Memorial Hall for a ceremony. The Shinbashira read a prayer, expressing his gratitude and respect for the second Shinbashira's painstaking efforts and accomplishments.
In 1915, Shozen Nakayama succeeded to the position of the Shinbashira at the age of nine due to the passing of his father. After he took up his official duties as the Shinbashira at the age of 20, he worked vigorously to restore Tenrikyo to its original state, as taught by Oyasama.
Promoting overseas missionary work was one of the most significant areas in which he took great interest. He traveled six continents on nineteen separate tours, encouraging missionaries wherever he went.