After the evening service on October 26, a special event to celebrate the marriage of Successor-Designate Daisuke Nakayama and his wife, Nobue, was held in the area in front of the East Worship Hall. This event was organized by a steering committee consisting of representatives from the Kanamekai (association comprising the head ministers of all directly supervised churches), the Women's Association, the Young Men's Association, the Boys and Girls Association, and the Student Advisory Committee.
At 6:45 p.m., following a loudspeaker announcement, the newlyweds showed up at the venue together with the Shinbashira and his wife. Amid cheers from those gathered, Daisuke and Nobue seated themselves at a table set up in front of the East Worship Hall.
The event commenced with 60 fireworks, which were set off immediately after "Tenrikyo no tameno fanfare" (Fanfare for Tenrikyo)—a piece composed specifically for this occasion by composer Shinichiro Ikebe—was performed by Tenri Kyoko Gakuen High School's marching band.
On behalf of those attending, two representatives offered their congratulations and said, "Building on the joy we savor today, we will dedicate ourselves to the work of sprinkling the fragrance of the teachings and helping others be saved, get more and more people involved in this work, and follow the path of the Joyous Life, the path that brings joy to the everliving Oyasama."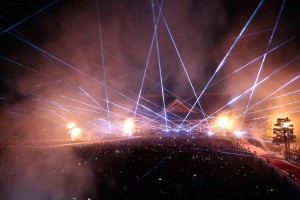 Next, a laser light show called "Pageant of Light and Sound" was presented, creating a fantastic, dazzling atmosphere in the venue. Following the show, which lasted for about seven minutes, Daisuke and Nobue received leis and bouquets of flowers from 24 representatives of all ages from kindergarten children to university students.
Daisuke then made a few remarks. Having expressed his appreciation, he said that he was grateful to be able to have conversations with his wife about sprinkling the fragrance of the teachings and helping others be saved. He also said that he had come to carry out missionary activities and salvation work from a broader perspective thanks to his wife, who gives advice from a woman's point of view. He then stated his resolve by saying, "Keeping in mind the importance of practicing filial piety and building a harmonious husband-wife relationship, we will rely wholeheartedly on the intention of the Parent and work hard with our minds in unison toward becoming the most joyous couple in the world."
Subsequently, the couple paraded through the venue. Arriving in the open space in front of the Oyasato-yakata's East Center Wing, they together pressed a button that switched on a laser light projection showing a message of congratulations onto the walls of the Oyasato-yakata.
After Daisuke and Nobue returned to the table in front of the East Worship Hall, the participants gave them three cheers with joy in their hearts. The event came to an end with 230 fireworks lighting up the sky.