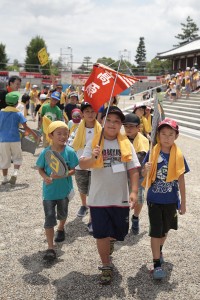 Tenrikyo Church Headquarters hosted the Children's Pilgrimage to Jiba between July 26 and August 4 under the theme "Spreading smiles! Help each other!" For this annual summer festival—which features nightly parades and many varied attractions and activities—a total of 231,012 children and adult leaders returned to Jiba from all over Japan and 20 overseas countries and regions, namely: Australia, Brazil, Canada, France, Germany, Hong Kong, Indonesia, Italy, Laos, Mexico, Mongolia, Nepal, the Philippines, Singapore, South Korea, Sri Lanka, Taiwan, Thailand, Turkey, and the U.S.A.
Although there were several days with an evening shower, the Home of the Parent was blessed with mostly fine weather with midsummer heat and humidity during the 10-day event.
On July 28, members of the Overseas Boys and Girls Hinokishin Corps from four countries and regions such as the U.S.A. and South Korea recited the Boys and Girls Association Pledge in their respective languages at the "Morning Service" event.
On both July 29 and 30, which fell on a weekend, the turnout was very large. In front of the office for registering pilgrimage groups before participating in the event, the signboard displaying expected attendance indicated early in the day that many activities and attractions would be full to capacity.
The Children's Pilgrimage to Jiba came to an end on August 4. After the evening service on that night, the Oyasato Parade, which opened with fireworks, included—besides fife and drum bands, brass bands, marching bands, and Boys and Girls Association Hinokishin Corps members—students from Tenri Health Care University, nurses from Ikoi-no-Ie Hospital, and high school students and other staff members who had contributed their hinokishin efforts to the Children's Pilgrimage. They were welcomed by cheering and clapping spectators who were appreciative of their hard work. The Shinbashira and his wife, as well as Successor-Designate Daisuke Nakayama, were also watching the parade in front of the South Worship Hall. After the performance of the marching band of Tenri Kyoko Gakuen High School marked the end of the parade, the "Finale" was held in front of the Main Sanctuary. On behalf of all the participants, two members of the Boys and Girls Hinokishin Corps offered words of appreciation to the Shinbashira, and then bouquets of flowers were presented to the Shinbashira, his wife, and Successor-Designate Daisuke Nakayama. This was followed by everyone joining together to sing this year's theme song, "Spreading smiles! Help each other!" Another round of fireworks was then set off to bring the 10-day event to a close.