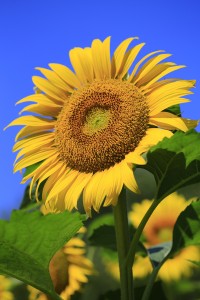 The July Monthly Service was duly conducted on the 26th in the Main Sanctuary of Tenrikyo Church Headquarters with the Shinbashira presiding as chief officiant.
In the Service prayer, the Shinbashira expressed his gratitude for the constant protection and guidance that God the Parent has given us out of boundless parental love. Touching upon the Children's Pilgrimage to Jiba to be held between July 26 and August 4 under the theme "Spreading Smiles! Helping Each Other," he said: "We pray that the pilgrimage will be a worthwhile event where children returning to Jiba from different parts of the world can learn the teachings and develop the spirit of helping one another through enjoying a variety of attractions and activities. Please guide us in ensuring that everything proceeds smoothly throughout the duration of the pilgrimage."
The Kagura Service and the Dance with Hand Movements were then performed joyously.
Since the end of the rainy season, the Home of the Parent had been having a spell of fine, hot weather. On the morning of the Service day, too, the temperature was already starting to rise quickly as worshipers joined in single-heartedly singing the songs for the Service.
The festive atmosphere of the Children's Pilgrimage to Jiba permeated the Sanctuary precincts, which were crowded with many children accompanied by staff members wearing matching T-shirts.
Following the performance of the Service, Honbu-in Tomikazu Matsumura took the podium to deliver the sermon.
He started by referring to the Children's Pilgrimage to Jiba, which was to start on that afternoon. He talked about the significance of handing down the faith to the next generation who would shoulder the path in the future.
He then stated that children would learn Oyasama's teachings such as "Become a person with a gentle heart" by attending various attractions and activities offered during the Children's Pilgrimage. He encouraged the congregation to do their best through their respective roles and positions after the pilgrimage, as well, so that those children would share their smiles and the spirit of mutual help in wider and wider circles when they went back home.
He then touched upon the High School Division of the Students Training Course, which was scheduled to begin on August 9, and the Seminar for Successors, which would be held in 25 sessions between August 28 and the end of next March. He said: "The phrase 'those who will shoulder the path in the future' in the context of your respective church refers to those on whose shoulders the future of your church rests, those who will contribute to a lively atmosphere there. In other words, you will be nurturing the people who will continue the faith in the days ahead." He then talked about how to nurture young people in this regard based on his own experiences.
Furthermore, he quoted the second Shinbashira's words regarding the relationship between the vertical mission and the horizontal mission: "Only when the vertical and horizontal missions produce synergetic efforts, can we convey the path that leads to the Joyous Life, I believe." He explained that the vertical mission and the horizontal mission are like "two wheels of a cart," for they are both necessary to spread the teachings in the world. He emphasized, "When it comes to world salvation, conveying our faith to our children and grandchildren is indispensable."
He concluded his sermon by saying, "In order to realize the Joyous Life World so desired by God the Parent and to ensure the happiness of our children, grandchildren, and so on, let us convey the splendid teachings to them with a sense of conviction and confidence."