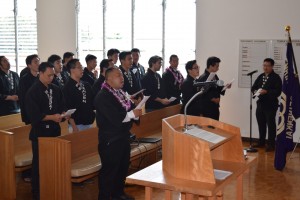 On May 20, Tenrikyo Young Men's Association Hawaii Chapter held a pep rally for the 100th anniversary of the Young Men's Association, which doubled as the chapter's 60th convention, in the presence of President Daisuke Nakayama.
In his address, President Nakayama first spoke on the goals of the activities for that anniversary, to be observed in 2018, saying, "Seeing the anniversary as a season for a 'return to one, a new beginning,' we are returning to the founding ideals of our association and working to carry out the activities that look twenty or thirty years into the future." Sharing a story of how his mind had changed through implementing the Joyous Life, he said: "I hope that our 100th anniversary will be 'life-changing' for all of us, so that in the future many will say: 'My life was changed thanks to the 100th anniversary,' or 'I wouldn't be here if not for that anniversary.' So for you to change your life and the life of those suffering around you, please start changing yourself by sowing many seeds of joy by using words to bring joy to those around you." President Nakayama concluded his address by saying, "To create a wonderful, joyous, and fun atmosphere in Tenrikyo, let us begin by doing our best in our anniversary activities."
Kyle Kikuchi, chairman of the Hawaii Chapter, then delivered a speech, in which he said: "Today marks a new beginning for World Salvation! A new beginning for Hawaii!"
Prior to the pep rally, President Nakayama had spent three days visiting five local churches and carrying out missionary activities, such as spreading the name of God and handing out leaflets, with local followers.