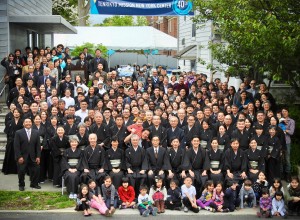 On May 7, Tenrikyo Mission New York Center held a service commemorating the 40th anniversary of its founding. The service was attended by Honbu-in Yoshikazu Terada, Overseas Department Vice Head Hinao Nagao, and approximately 250 followers from across the U.S.A.
In his speech, Rev. Terada—who had helped make plans to establish the center when he was chairman of the Young Men's Association America Chapter—said: "You were all chosen by Oyasama from among many Yoboku to carry out the work of the path in this part of the world—the path that leads to the realization of the Joyous Life of all humankind. I hope that you will maintain an awareness of this mission as you perform your role as Oyasama's instruments here in New York while helping and encouraging one another. This, I believe, is your continuing mission as you move forward from the 40th anniversary."
The service was followed by a reception, where a variety of music and dance performances were given on a specially constructed stage.