On August 26, the Monthly Service was performed at the Main Sanctuary of Church Headquarters with the Shinbashira presiding as chief officiant.
In the Service prayer, the Shinbashira expressed his gratitude for the unchanging blessings and deep parental love of God the Parent, who constantly guides us along the path of spiritual growth. He then said, "Going back to the origin of the teachings once again and pondering over our future direction during the present season, we Service performers as well as church head ministers and Yoboku are determined to stay true to the spirit of single-heartedness with God, work in high spirits to sprinkle the fragrance of the teachings and engage in salvation work, and make repeated efforts to provide care and guidance as we devote ourselves entirely to the construction of the Joyous Life."
Following the prayer, the Kagura Service and the Dance with Hand Movements were performed joyously.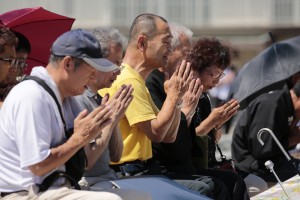 While the intense heat of summer still lingered in the Home of the Parent, worshipers joined in single-heartedly singing the songs for the Service.
Honbu-in Ikuhiro Masui then took the podium to deliver the sermon. Having referred to Oyasama's 50-year Divine Model, he said, "Our predecessors overcame any difficult situation with the firm conviction that they could follow Oyasama's Divine Model."
He next spoke about Oyasama's miraculous salvation and free and unlimited workings while touching upon some stories in Anecdotes of Oyasama and experiences of Rin Masui, who was the first follower in Honbu-in Masui's family. He stressed the importance of realizing the intention of God, saying, "People are given God's guidance through illnesses and other issues if their minds are not in accord with God's intention—even when they believe their actions are good."
Moreover, he said: "Oyasama taught us the teaching of 'a thing lent, a thing borrowed' in order to reveal the truth that the world and humankind exist thanks to God the Parent's blessings. . . . We should first settle the teaching of 'a thing lent, a thing borrowed' firmly in our minds. It is also vital to convey this teaching to people around us, starting with our children, and provide care and nurture for them. I believe that those efforts will help all people cultivate the joy of faith."
Toward the end of his sermon, Honbu-in Masui quoted Oyasama's words from Anecdotes of Oyasama: "This is a path to be followed joyfully by looking forward to the delight in the future" (no. 135) and "Be thankful and follow the path joyfully, no matter what you may encounter" (no. 36). He then said: "Our predecessors have passed down the faith to us while looking forward to the delight in the future and allowing the joy of saving others to sustain their efforts in any difficult situation. Let us live each day while taking delight in our practice of the faith so that the path will continue for endless generations."