Sponsored by the Women's Association, the 28th Young Women's Convention, which is being held regionally between August 28 and December 18, began at seven venues in Japan. In total, 123 venues in Japan and 17 venues in 14 overseas countries and regions will host the convention. Under the theme "Keeping our minds connected with God the Parent and Oyasama, let's grow spiritually so as to make repayment for the blessings we receive," the convention is designed to provide an opportunity for the Women's Association members between the ages of 16 and 25 to study the teachings, have discussions with fellow members, become aware of the daily blessings of God, and pledge to make repayment for them. The program includes a video presentation that introduces three young women who sprinkle the fragrance of the teachings and engage in salvation work, a group discussion about God's blessings they can find around them and how to make repayment for the blessings, and a message from Women's Association President Harue Nakayama.
Fukuoka Venue
One of the venues where the convention took place on August 28 was in Fukuoka Diocese. In February this year, the Fukuoka Diocese Chapter of the Women's Association set up a project team for the convention. Dividing the diocese into four regional blocks, the team arranged for the convention to be held twice in each block. There are venues where the convention will take place on weekday evenings in order to make it easier for those who work during the day to participate in the event. Since April, the team has also provided training sessions for group discussion leaders in each block and district, as well as at the Fukuoka Diocese Office, so as to promote people's awareness of the convention.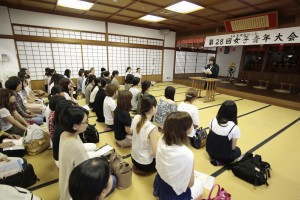 Despite the heavy rain, a total of 160 people, including 60 young women, attended the convention held at the diocese office in Fukuoka City. Among the participants was Miyuki Nagatani, a 24-year-old nursery teacher. "Watching the video, I was inspired by those young women who make steady efforts. I learned the importance of settling the mind and taking action in all situations. Instead of using work as an excuse, I should proactively do what I can to convey the teachings of the path to people around me in a step-by-step fashion," she said.
Suzu Araki, a 16-year-old high school student, participated for the first time in an event designed for Tenrikyo young women. She said with a smile: "Listening to the president's message, I was encouraged to implement the guidelines for young women's activities. I'll continue to take part in the Women's Association's activities and young women's activities. I also hope to bring my friends back to Jiba someday."
Ayumi Yamato, who serves as assistant leader of the young women in the Fukuoka Diocese Chapter, said: "Although some participants looked nervous at first, they eventually seemed happy and satisfied. I believe that the convention became an opportunity for participants to realize something new about their faith and meet new friends. I'll continue to reach out to people so that more people will attend the convention in the remaining period."