The Oyasama 130th Anniversary Overseas Followers Gathering—sponsored by the Overseas Department—was held at South Left Wing 3 of the Oyasato-yakata building-complex on January 24 under the theme "Let Us Keep Our Minds Connected with Oyasama," drawing some 500 followers from overseas. The gathering was designed to provide overseas followers with an opportunity to share their joy of having been able to make a pilgrimage to Jiba, reaffirm the significance of observing Oyasama's anniversary, and pledge together to further advance their salvation activities when they return to their respective countries and regions. Participants also enjoyed a reunion at the venue. Simultaneous interpretation was provided in eight languages including English, Korean, and Portuguese throughout the program.
In the opening address, Overseas Department Head Yoichiro Miyamori reflected on the course of the path of Oyasama's Divine Model and explained that Her path was designed entirely to bring about universal salvation. He closed his address by encouraging the listeners, saying: "God the Parent will provide us with the workings in proportion to the amount of effort we make in sprinkling the fragrance of the teachings and helping save others. Let us take this opportunity to pledge together to continue our efforts with the spirit and attitude of single-hearted salvation, always bearing in mind the path of the Divine Model of Oyasama, so that we may respond to Oyasama's parental love and Her painstaking efforts."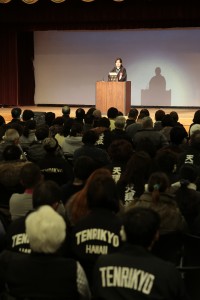 Following the opening address, faith experience speeches were given by three overseas followers. Ms. Maria Abe, a 29-year-old Yoboku of Tenrikyo Ryuhi Mission Station in the Philippines, was one of the speakers. In her speech, entitled "Oyasama Is with Us," she shared her experience of suffering from depression, during which she was unable to feel joy in daily life. Through interacting with Tenrikyo people around her including her family, however, she came to realize that Oyasama is always there by our side giving us Her parental love freely and was able to change the orientation of her mind.
This was followed by a video presentation that showed scenes from the past anniversaries of Oyasama and provided the participants with an opportunity to reflect on the significance of observing Oyasama's anniversaries. Then, essays that had been written by overseas followers under the theme "Oyasama and I" and submitted to the Overseas Department were read aloud by staff members of the gathering. After that, all participants joined together in singing the gathering's theme song "Oyasama," whose lyrics and music had been composed by Rev. Tomozo Hirano, senior department member. The gathering ended with the performance of the Eight Verses of the Yorozuyo.
Ms. Véronique Mazé, a 52-year-old Yoboku of Bordeaux Church, received the truth of the Sazuke three years ago. She said: "This is only the second time I had returned to Jiba, but I am feeling at ease as if I were at home. Although I have administered the Sazuke to my family members and friends in France, it is not good enough. During my stay, I would like to study the teachings more deeply so that I can convey them properly teachings to those in my immediate circle."