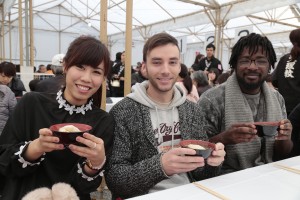 The annual Sechi Festival was held from January 5 to 7 at the Home of the Parent. The festival, which dates back to the late 1860s or the early 1870s, is a long-lasting event that has continued for over a century. Many families and pilgrimage groups organized by churches from various parts of Japan, as well as some members of the Diet, returned to Jiba during the festival period. A total of 65,934 people, approximately 4,000 more than last year, took part in the festival thus creating a lively atmosphere at the Home of the Parent.
The event started at 10:00 a.m. on each of the three days. After offering their first prayers of the year at the Main Sanctuary, pilgrims made long lines in front of the entrance gates, starting about one hour before they opened.
Visitors made their ways to one of six Sechi sites after being treated to a celebratory sip of sake at the entrance gate. They smacked their lips over the zoni—clear broth containing charcoal-roasted rice cakes and some greens—and enjoyed a happy family togetherness at the Home of the Parent in the New Year.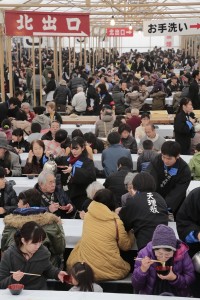 The Sechi Festival was supported by approximately 4,700 hinokishin volunteers—including resident and other staff members of Church Headquarters, students of Shuyoka (the Spiritual Development Course) and Tenrikyo schools, and members of the Students Sechi Festival Hinokishin Corps. At each site, they enthusiastically greeted visitors saying, "Welcome back!" with pleasant voices.
Over the course of the three days, the Shinbashira and Successor-Designate Daisuke Nakayama visited each site. They exchanged New Year's greetings with followers and provided encouragement for those who were engaging in hinokishin.