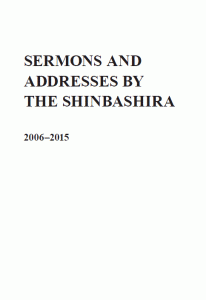 Sermons and Addresses by the Shinbashira 2006–2015 was published in January this year by Tenrikyo Overseas Department. The following is an extract from the foreword, written by this department's Translation Section:
This book is a collection of all our published English translations of the Shinbashira's sermons and addresses spanning the past decade starting at the 120th Anniversary of Oyasama. He gave the sermons on the occasions of the Oyasama 120th Anniversary Service and the Spring and Autumn Grand Services and the addresses at the annual conventions of the Women's Association and the Young Men's Association. Also included in this book is our translation of Instruction Three, which he announced during his October 2012 sermon by reading it to the congregation.

The translations of his sermons contained in this volume originally appeared in our newspaper, Tenrikyo, and the translations of his addresses at the two associations' conventions were published, respectively, in the Women's Association magazine Michi no Dai: Foundation of the Path and the Young Men's Association magazine Arakitoryo: Pioneers of the Path.