On January 1, the New Year's Day Service for the 179th year of the Teaching (2016) was duly performed at 5:00 a.m. at the Main Sanctuary with the Shinbashira presiding as chief officiant. The followers who gathered at the Main Sanctuary before daybreak to attend the first Service of the year—the year in which the 130th Anniversary of Oyasama would be observed—committed themselves once again to further promoting world salvation with a fresh mind.
At the appointed time, the Shinbashira and other Service performers left the Staff Quarters and paid their respects at the Foundress' Sanctuary and the Memorial Hall before proceeding to the Main Sanctuary.
In the Service prayer, the Shinbashira first expressed his gratitude for the New Year. He then said, "Looking back on the past year, which we saw as the year to complete our pre-anniversary activities, we followed the path of single-hearted salvation in high spirits although we may have fallen short of Your expectations. We are truly grateful to You for guiding us along splendidly each day."
He then went on to say, "Having welcomed in the significant year of the 130th Anniversary of Oyasama, all of us Service performers, head ministers, and other Yoboku will strive to make repayment for Your blessings by dedicating our utmost sincerity to advancing the path." He concluded by saying, "Please continue to guide us along with Your parental love as we proactively work to make new progress along the path of world salvation so that we can be blessed with a degree of advancement that befits the year of Oyasama's anniversary."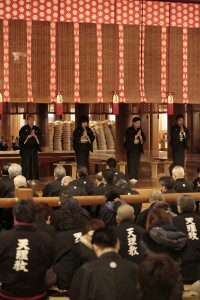 The Kagura Service and the Dance with Hand Movements were then performed. As the day broke, gusts of wind blew through the Main Sanctuary, making the cold even severer. The followers joined in singing the songs for the Service in unity of mind.
Following the performance of the Dance with Hand Movements, the Shinbashira and other Service performers proceeded to the Foundress' Sanctuary to offer their New Year's greetings to the everliving Oyasama. The Shinbashira read the Service prayer, in which he said: "Having welcomed in the New Year, the year in which Your 130th Anniversary is scheduled to be observed, we will keep on devoting our utmost sincerity to the path of single-hearted salvation with a renewed sense of joy of serving as Your instruments."
Also, on New Year's Eve, despite the temperature dropping to 4°C (39.4°F), many followers were waiting quietly in the Main Sanctuary for the arrival of the New Year. As soon as the clock hit midnight, they paid their respects to God the Parent. Among them was a follower named Norio Ezaki (age 68) from Nara, who was with seven friends from Osaka. He said: "My grandmother, who was a devoted follower, used to bring me here on New Year's Eve to welcome the New Year together. I came here again to offer my thanks to God the Parent for guiding me through the past year and to express my resolve to attain a level of spiritual growth that befits the year of Oyasama's anniversary."