On September 24, with Oyasama's 130th Anniversary just four months away, the construction of a new building that serves as the wheelchair ramp entrance was completed.
At 2:00 p.m., an appreciation service was performed in the Main Sanctuary at Church Headquarters with the Shinbashira playing the wooden clappers. Resident officials of Church Headquarters, directly supervised church head ministers, managers and personnel involved in the construction project, and others attended the service.
This was followed by an inspection by the Shinbashira, his wife, and Shinbashira-Designate Daisuke Nakayama. Construction and Maintenance Department Head Haruo Maegawa explained the process of transferring a wheelchair user into an indoor wheelchair, the guidelines on the proper use of the wheelchair ramp, and some measures to be taken at the building in case of rain.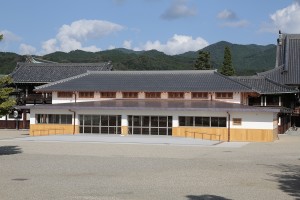 The building equipped with a wheelchair ramp (total floor space: 586 square meters or 6,308 ft.2) is located adjacent to the section of the Corridor that connects the West Worship Hall and the Memorial Hall. Intended to provide better accessibility for wheelchair users and the elderly, the construction of the building started on January 27, 2015, and took approximately eight months to complete.
In the entrance hall, wheelchair users will transfer from their own wheelchair into an indoor wheelchair whose use is restricted to the Sanctuaries and the Corridor. Wheelchair users will then proceed up a gentle wheelchair ramp with a switchback (total length: 40 meters or 131 ft.) and arrive at the southwest corner of the Corridor.
Inside the entrance building, there are five individual restrooms that are wheelchair-accessible. Each restroom is furnished with a motion-activated light, which will automatically turn on when someone enters the restroom.
After the inspection by the Shinbashira, Director-in-Chief of Religious Affairs Hiroaki Yamazawa greeted the people who had gathered outside the wheelchair ramp entrance. First, he gave words of appreciation to the managers and personnel involved in the construction. He then encouraged all present to make a redoubled effort to take action by saying, "We ought to make progress in the construction of our minds that befits the material construction."
–––––––––––––––––––
The wheelchair ramp entrance (The entrance extention) will be open for the Monthly Services of Church Headquarters as well as other occasions when many worshipers are expected.