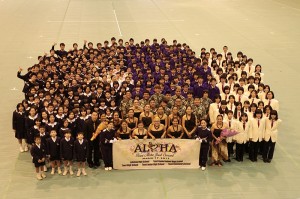 On March 17, 45 students from the Performing Arts Department of Leilehua High School in Hawaii performed together with about 300 music club students from Tenrikyo schools in a concert called Tenri Aloha Joint Concert, which was held in Tenri University's Gymnasium 1.
Designed to provide opportunities for students of Leilehua High School and Tenrikyo schools to interact through music, this was the third joint concert of these schools, the first one having taken place in 2008. Eight years ago, Mr. Alan Kinoshita, the dean of the Performing Arts Department of Leilehua High School and the director of the school band, brought the idea of the concert to Mr. Steven Nakao, who was serving as the president of the parents association of the Department. Mr. Kinoshita had been impressed by performances by the Tenri High School Brass Band and the then Tenri Seminary High School Marching Band. After becoming the director of Leilehua's band 10 years ago "I dreamed of holding a joint session together with a marching band from Tenri," he said. Later he found that Mr. Nakao was a Tenrikyo follower and asked for his help. In 2007, Mr. Kinoshita returned to Jiba with him for the first time. The following year, the first joint concert was made possible with support from Tenrikyo Overseas Department. On a different note, inspired and encouraged by Mr. Nakao, Mr. Kinoshita and students from his school have participated in Tenrikyo Hinokishin Day in Hawaii over the past nine years. Some Leilehua students returned to Jiba on the Children's Pilgrimage last year and served as staff members at one of the event venues.
Mr. Kinoshita said: "I feel that the high-level performance of Tenri bands comes from how they go about their practice and how they carry themselves based on the teachings. I would like our students to learn not only from their techniques but also from their attitude."
The Hawaiian group arrived on the 14th. On the next day, they visited the Main Sanctuary and engaged in corridor-cleaning hinokishin. On the 16th, they had an exchange event with the Tenri Kyoko Gakuen High School Marching Band. The Hawaiian students taught the Japanese students hula during the event. After that, Leilehua students had another exchange activity with intensive English course students of Tenri High School. They enjoyed working together to complete their task in a game.
The concert on the 17th began with a performance by the Tenri High School Brass Band, followed by the Tenri Elementary School Orchestra and the Tenri Junior High School Brass Band. After that, Leilehua High School gave their performance including Hula Kahiko, traditional hula accompanied by chants and a gourd-shaped percussion instrument called Ipu, and Hula Auana, modern hula accompanied by soft Hawaiian music. The concert concluded with a splendid marching band performance by the Tenri Kyoko Gakuen High School. Ms. Glynniss Brasher, a Leilehua High School student, said with a smile, "People in Tenri are warm and I felt comfortable as if I were at home."
Mr. Nakao said: "This event creates not only a place for cross-cultural interaction but also an opportunity to sprinkle the fragrance of the teachings on the parents of the students. Some of the parents have attended the Besseki lectures. I would like to continue providing opportunities for exchange between Tenri and Hawaii and bring more and more people to Jiba."