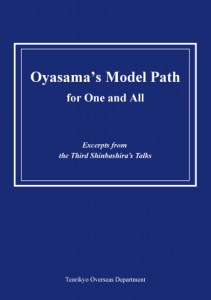 Entitled Oyasama's Model Path for One and All—Excerpts from the Third Shinbashira's Talks, this book presents an English translation of Shinbashira okotoba bannin no hinagata, which was compiled by Tenrikyo Doyusha Publishing Company from Shinbashira kunwa-shu [Collection of the Shinbashira's Talks] and published in Japanese in 1997. The English edition runs to 187 pages including an index.
This work is organized into 15 chapters entitled: "An Overview of the Fifty-Year Divine Model," "Falling to the Depths of Poverty," "A Path Crafted for All People Everywhere," "Joyous Acceptance," "Taking Delight in the Truth of Arising Occurrences," "Single-Heartedness with God," "Sowing Seeds of Sincerity," "The Parental Heart," "Simple Openness and Implementation," "The Joyous Life," "Sprinkling Fragrance and Doing Salvation Work," "The Service and the Sazuke," "The Divine Model and the Ofudesaki," "The Workings of the Everliving Oyasama," and "The Proper Attitude toward the Divine Model."
Oyasama modeled the Joyous Life for the benefit of all people, whether they run businesses, work for companies, or may not necessarily work for a living. "Since Oyasama's Divine Model is the exemplary model that guides us to the Joyous Life, it is surely meant to benefit all people everywhere, not just those with particular qualities or capacities," says the third Shinbashira.
Oyasama tells us that since our mind is capable of experiencing joy in any situation, we should be quick in finding that joy and savoring it. One of the keys to it, according to the third Shinbashira, is to realize that "suffering and delight depend on the way our mind perceives a situation, rather than being inherent in the situation itself," and we "can look to Oyasama's Divine Model to find an example of how to discover joy amid all the worries and travails of daily life."