The 6.3-magnitude earthquake that struck Christchurch, New Zealand, on February 22, led to widespread devastation, destroying or damaging tall buildings and cathedrals and leaving many people dead or missing. In the wake of the disaster, Tenrikyo Overseas Department's International Network for Mutual Help sent a staff member from late February through early March, who entrusted the city with a monetary donation and conducted relief work such as providing quake victims with supplies that served their needs.
According to news reports, as of March 9, the number of dead or missing was 181, including some 20 Japanese students who are presumably buried beneath collapsed buildings. The network started to collect information about the damage immediately after the quake.
After discussing possible support activities, the network decided to send a staff member to work with a relief team of AMDA—an international relief organization based in Okayama, Japan—with which the network has a long relationship.
Mr. Yoshiharu Adachi, a Tenrikyo Overseas Department staff member, who arrived in the country with an AMDA counterpart on February 28, met with local staff members of AMDA and reported back to the network on what the victims needed. Then, in addition to its donation to the city, the network decided to make another contribution in the form of providing supplies to a Samoan community, which was in need of material aid.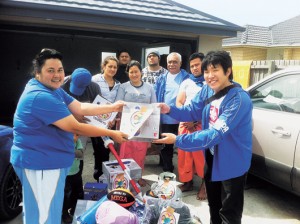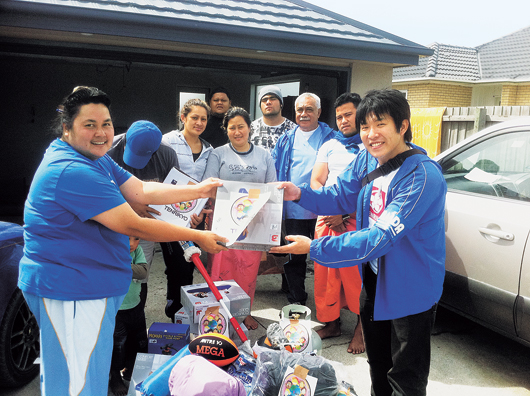 A local Samoan doctor said that even though about 20 Samoan people who lost their homes were given shelter in a local Christian church, they were having trouble sleeping at night due to a lack of bedding as well as continuing aftershocks.
On March 1, Mr. Adachi, who had purchased NZ$3,000 (about US$2,200) worth of items such as mattresses, bed sheets, pillows, food, and portable gas burners, distributed them with the support of AMDA and an Australian private relief organization to the Samoan residents evacuated to the church and parks. He later received a thank-you note from the pastor of the church.
On the next day, Mr. Adachi presented NZ$10,000 (about US$7,300) to the deputy mayor, who visited him on behalf of the mayor of Christchurch. He also had a few chances to be present with the missing Japanese students' family members—who had traveled to New Zealand—while AMDA staff members were providing them with emotional care. He also attended a media conference conducted by the Ministry of Foreign Affairs of Japan.
The network always accepts relief donations for natural disasters in various parts of the world. For more information, please contact the Overseas Department's International Network for Mutual Help at tnet@tenrikyo.or.jp.