On February 18, Tenri France-Japan Cultural Association—located in downtown Paris—held a ceremony to commemorate its 40th anniversary with Tenri University President Masahiko Iburi and Overseas Department Vice Head Noriaki Nagao attending as guests of honor.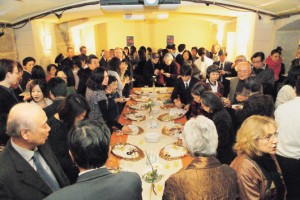 Upon its establishment in 1971 as the cultural arm of Tenrikyo Mission Centre in Paris—the forerunner of Tenrikyo Europe Centre—the association opened a Japanese language school, which was a pioneering private institution for Japanese language education in Paris at the time.
After being moved to the current location in 2000, the association also started offering such lessons as "Japanese Language Lessons for Children" and "French Language Lessons." So far, over eight thousand people have studied in the school, which is officially registered with France's Ministry of Education. Last April, the association signed an academic exchange agreement with Tenri University and will soon begin to exchange students with the university.
Besides providing language education, the association has a library and puts an emphasis on introducing Japanese culture by organizing classes in Japanese calligraphy, flower arrangement, tea ceremony, and cooking. It also allows the general public to use its gallery and multipurpose hall for holding art events. Promoting the exchange of people of different nationalities and cultures—not just between France and Japan—through such events as dance performances, plays, and exhibitions, the association seems to have taken root in Paris, the "City of Art."
The ceremony was conducted in French. Drawing 161 people involved in the association, the ceremony started with an address by Mr. Toshiyuki Takahashi, the director of the association, who looked back on the association's history and pledged to continue promoting cultural exchanges and mutual understanding between France and Japan.
After the mayor of Paris's first arrondissement—in which the association is located—and a counselor at the Embassy of Japan in France offered a few words of congratulations, Mr. Iburi took the podium to deliver his congratulatory address. He first talked about his involvement in promoting the association activities during the terms he had served as the head of the then Overseas Mission Department and as the Director-in-Chief of Tenrikyo Administrative Affairs. Referring to the exchange agreement between the association and his university, he said, "Having the agreement with the school in Paris brings a great deal of pleasure to our university, which aims to ʻnurture human resources for the construction of the Joyous Life World' and whose key educational principle is to foster international and religious sensitivity." He then expressed his expectation that the development of the association and the university will contribute to further strengthening the cultural friendship between France and Japan.
On the 15th, three days before the ceremony, a commemorative exhibition "The World's Five Great Continents" was opened. Other commemorative events will be organized throughout this year.