On October 28, Tenrikyo Language Institute (TLI) held a ceremony commemorating its 20th anniversary in the Home of the Parent, drawing more than 300 people including graduates, students, staff members, and directly supervised churches' officials. The ceremony was held in the 6th-floor auditorium of Shikishima Followers Dormitory.
Director-in-Chief of Administrative Affairs Yoshitaro Ueda gave an opening address. Intended for students, he said: "I would like you to make the most of the precious experiences you have during your stay in Jiba. After graduation, I would like you not only to continue studying Japanese but also to cultivate your conviction of faith."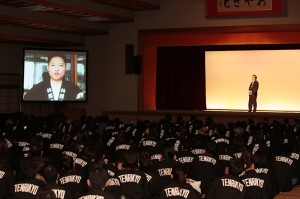 Following the opening address, a congratulatory address was delivered by Rev. Tadao Yoshikawa, who served as the first head of the association of the directly supervised churches' officials in charge of looking after TLI students. This was followed by a video presentation illustrating the missionary activities carried out by TLI graduates in Mexico and the Philippines. Next, seven TLI students shared with the audience unexpected surprises they experienced at the institute, incredible experiences during their stay in Jiba, and their future dreams.
Principal Harunori Watanabe then delivered the closing address. Reflecting on the visit the third Shinbashira paid to Tenrikyo Language Institute prior to its opening, Principal Watanabe shared what the guest of honor had said on that occasion to the first principal, Rev. Masahiko Iburi, who is currently the president of Tenri University. Principal Watanabe went on to say, "Although the facility may not be optimal to develop human resources for the overseas mission, the third Shinbashira had high expectations that the sincere minds and efforts of the institute's staff members would make up for whatever shortcomings the facility may have." Principal Watanabe then had a conversation on Skype with a graduate of TLI's Oyasato Fusekomi Department. The graduate shared some of the memories from his days at TLI and the resolutions he made for the 130th Anniversary of Oyasama. Principal Watanabe closed his address by saying: "I envision that TLI will carry on its wonderful and rich traditions and increase both the number of languages and the number of online courses offered at the institute so as to meet the needs of the entire Tenrikyo community. Two years after the 130th Anniversary of Oyasama, we will commemorate the 60th anniversary of the establishment of the Japanese Language School of Tenri University, which was a precursor of TLI. While keeping in mind the day of the origin of our institute, I would like all of us involved in nurturing human resources at TLI to unite our minds, strive to create an institute that befits its rich traditions and history, and exert our utmost efforts in developing human resources."