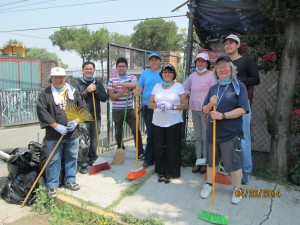 This year's Tenrikyo Hinokishin Day was observed at various locations throughout Japan and overseas on April 29. The theme for this year was: "Taking advantage of this seasonable time, let's sow seeds of sincerity." Now that Tenrikyio followers are in the second year of the "three years, one thousand days" season leading up to the 130th Anniversary of Oyasama, they had made a proactive and concerted effort to reach out to people living in their community so that as many people as possible participate in Hinokishin Day.
In the United Kingdom, Hinokishin Day was observed on April 27. Local followers wore matching T-shirts that read "Tenrikyo Global Hinokishin Day" and picked up litter at Hyde Park in London. While the followers earnestly cleaned the park, some passersby stopped and asked them about the meaning of the word "hinokishin."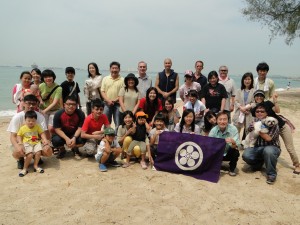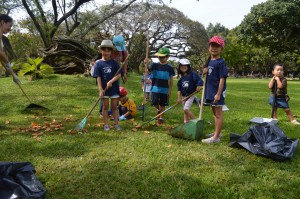 Tenrikyo Mission Center in Singapore held its Hinokishin Day activity on April 27. The followers cleaned the beach at Singapore East Coast Park, which is designated as a national park. They also took the occasion to encourage one another to attend the Oyasama 130th Anniversary Yoboku Gathering, which was held on May 18 at the Mission Center in Singapore.
In Uganda, Hinokishin Day was held at three locations. One of the venues was the shore of Lake Victoria in Kingungu Village, where 65 people engaged in clean-up hinokishin on April 29.
In Hawaii, 170 people on Oahu Island gathered at Honolulu Zoo on May 3. The participants picked up litter and raked up monkeypod leaves and seeds. The Mission Headquarters of Hawaii conducted its 60th anniversary on May 17.
In the mainland United States, 17 sites were set for Hinokishin Day from April to May. On May 4, followers gathered to clean the main sanctuary and other buildings in the premises of Tenrikyo Mission Headquarters in America, which will observe its 80th anniversary on June 15.