In commemoration of the everliving Oyasama's 216th birthday, the Oyasama Birth Celebration Service was conducted on April 18 in the Main Sanctuary and Foundress' Sanctuary at Tenrikyo Church Headquarters with the Shinbashira presiding as chief officiant.
Approximately 65,000 followers returned to Jiba for this Service from across Japan and overseas. Taking a ferry from Kagoshima Prefecture, Toki Tsumagari, who will be celebrating her 103rd birthday this year, returned to Jiba with her friends. She said: "My son, who had been confronted by a life-threatening situation, was miraculously saved 70 years ago. I have never forgotten the deep emotion I felt at that time." Rumi Miyauchi, who returned from Hawaii, brought offerings of homemade cookies, which had been baked by members of the Hawaii Chapter of the Women's Association. "We made the cookies with our best wishes for Oyasama's birthday and with our renewed resolution to work for the salvation of others," she said.
Akita Diocese chartered a train—for the first time in 19 years—to bring a pilgrimage group of 190 people to Jiba for the Service. Last October, the diocese had set a goal of bringing 5,000 people to Jiba during the pre-anniversary season leading up to the 130th Anniversary of Oyasama. Yoboku and followers in the diocese had thus made active efforts to encourage one another to join the pilgrimage.
Shortly after 9:30 a.m., the Shinbashira and other Service performers left the Staff Quarters for the Foundress' Sanctuary and the Memorial Hall to pay their respects before proceeding to the Main Sanctuary.
In the Service prayer, the Shinbashira declared, "On this day, as we Service performers as well as church head ministers and other Yoboku ponder with a renewed mind over the true intention in founding the Teaching, we are resolved, as Oya­sama's instruments, to take great strides along the path of the Divine Model in a manner befitting this seasonable time."
The Kagura Service and the Dance with Hand Movements were then performed joyously while the worshipers joined in singing the songs for the Service with their minds in unison. After the Kagura Service, the Shinbashira, his wife, and Successor-designate Daisuke Nakayama proceeded to the Foundress' Sanctuary to serve a meal to Oyasama.
Following the conclusion of the Dance with Hand Movements, Honbu-in Yoshitaro Ueda delivered a sermon. Referring to the truth of Oyasama's eternal life, he first explained that the truth of the Sazuke is a precious treasure for all Yoboku because it enables them to actually experience the fact that Oyasama is indeed working by virtue of Her eternal life. He said that Oyasama is watching over all human beings, Her children, and giving them support when they need it while guiding them along so that they would not stray onto a dangerous path. He continued: "In particular, Oyasama goes ahead of us Yoboku who are working single-heartedly for the salvation of others and provides us with protection and guidance. To keep ourselves mindful of this, we should wear the Amulet, which is a piece of red cloth that was a part of the red clothes worn by Oyasama."
Rev. Ueda next mentioned the Oyasama 130th Anniversary Yoboku Gatherings, which are currently being conducted in many regions. Referring to some positive comments made by non-followers who appear in a video shown at the gatherings, he said, "Maybe we should think that people from outside are pointing out good things about Tenrikyo activities—things we would not have noticed otherwise."
In this regard, he explained how interacting with people from outside Tenrikyo can sometimes help followers find a new perspective that they would not have noticed by looking only at the Tenrikyo community. To illustrate this point, he shared two stories. He first talked about how he was asked to deliver a lecture on Tenrikyo's view on family issues at the Diet Members' Office Building of the Lower House last May. He said, "This request reflects politicians' awareness of critical conditions concerning family including husband and wife and their need to address this social issue," and he stressed the fact that Tenrikyo teaches in detail how a family should be, including the truth of husband and wife, who represent heaven and earth.
As for the other story, Rev. Ueda mentioned that a research institute belonging to a certain religious group had recently sent Tenrikyo a questionnaire regarding bioethics. The questionnaire asked, for instance, how Tenrikyo provides terminal care and whether Tenrikyo prohibits euthanasia and death with dignity. Tenri Yamato Cultural Congress, which has studied social issues and current affairs from a Tenrikyo standpoint, submitted answers based on the teaching of "a thing lent, a thing borrowed," and those answers highly impressed the authors of the questionnaire. Rev. Ueda then said: "Tenrikyo's teachings can address these hot issues including family problems I mentioned earlier. . . . The teachings do not get old; in fact, their true value is now increasing. From this vantage point, we should study the teachings more thoroughly, make them second nature to us, and actually implement them. . . . We should also convey the teachings to others with a sense of pride and mission."
Lastly, mentioning a social trend to stay away from religions and an increasing number of problems and conflicts arising from the lack of a dependable spiritual guide, he pointed out that society is filled with a vague anxiety about the uncertain future. He closed his sermon by saying, "It is my hope that, as followers of the teachings for world salvation, all of us Yoboku will strive each day to help others be saved so that we may respond to the parental love of the everliving Oyasama, who continues to guide us at the forefront of world salvation."
After the sermon, the Shinbashira returned to the Foundress' Sanctuary, where he read a prayer to Oyasama to extend words of celebration.
Joyous Chorus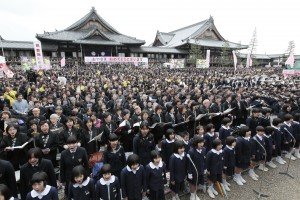 After the Oyasama Birth Celebration Service, the "Joyous Chorus"—an annual event co-sponsored by the Women's Association, Young Men's Association, and Boys and Girls Association—took place in the Inner Courtyard. Led by two members of the Boys and Girls Association, the congregation offered their congratulations to Oyasama. This was followed by several choral pieces, such as the "Oyasama Birth Celebration Song" and "Happy Birthday, Oyasama," accompanied by an orchestra comprising musicians from Tenrikyo schools and Tenrikyo Institute of Music. This year's Joyous Chorus marked its 25th anniversary.