On January 1, the New Year's Day Service marking the second year of the pre-anniversary season leading up to the 130th Anniversary of Oyasama was solemnly performed at the Main Sanctuary of Tenrikyo Church Headquarters with the Shinbashira presiding as chief officiant. In predawn hours, the sky of the Home of the Parent was covered with clouds, and the temperatures went below freezing. Shortly before 5:00 a.m., bundled up worshipers walked briskly toward the Main Sanctuary in the teeth of the wind.
At the appointed time, the Shinbashira, accompanied by other Service performers, proceeded to the Main Sanctuary after paying respects at the Foundress Sanctuary and the Memorial Hall. The Shinbashira began the Service prayer by expressing gratitude to God the Parent for the start of the 177th year of the Teaching. He then said: "Looking back upon the past year—the first year for the "three years, one thousand days" activities leading up to the 130th Anniversary of Oyasama—all of us Yoboku, with the entire Tenrikyo community oriented in one direction, have tried to respond to Your intention to hasten the construction of the Joyous Life World while keeping in mind the joy of being used as Oyasama's instruments. Although we may have fallen well short of Your expectations, You have guided us with Your profound parental heart, for which I am truly grateful."
The Sinbashira continued, "As we are now into the second year of the pre-anniversary season, we Service performers as well as church head ministers and other Yoboku have once again reflected on the steps we have taken so far, and we are focusing our attention ever more sharply on our tasks and are determined to follow the path of the Divine Model honestly and straightforwardly and to devote ourselves to single-hearted salvation in high spirits with our minds as one so as to respond to Your boundless blessings. I humbly ask You to accept our resolve and bless us with the ever more vigorous growth of the path, whereby people in the world may become fully aware of the truth of the origin one after another, thus allowing You to guide us to the broad path of the Joyous Life at the earliest possible time."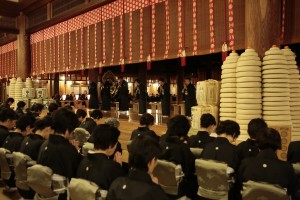 The prayer was followed by the joyous performance of the Kagura Service and the Dance with Hand Movements. It became even colder with the approach of dawn, but the Sanctuary precincts were filled with followers singing the Mikagura-uta, the songs for the Service.
After the Service, the Shinbashira proceeded to the Foundress' Sanctuary to deliver a prayer to Oyasama. After extending New Year's greetings to Her, he pledged, "Welcoming the second year of the season leading up to the 130th Anniversary of Oyasama and having reflected on the steps we have taken so far, we are all determined to brace our spirits, deepen our awareness and joy of being used as Oyasama's instruments, devote our sincerity to sprinkling the fragrance of the teachings and helping save others, and thereby work spiritedly throughout the year with our minds in unison so that we can respond to Your boundless blessings."