The September Monthly Service of Church Headquarters was conducted on the 26th at the Main Sanctuary with the Shinbashira presiding as the chief officiant. In the Service prayer, the Shinbashira expressed gratitude for God the Parent's boundless love and said, "Taking to heart the significance of the respective missions entrusted to each of us in the midst of the 'three years, one thousand days' pre-anniversary season, we Service performers as well as church head ministers and other Yoboku are determined to make every effort to correct our own attitude, follow the Divine Model of Oyasama with sincerity, and devote ourselves to sprinkling the fragrance of the teachings and engaging in salvation work as well as providing care and guidance."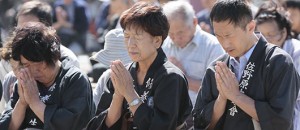 The prayer was followed by the joyous performance of the Kagura Service and the Dance with Hand Movements. It was a brisk fall day, with pleasant breezes blowing throughout the Home of Parent. The worshipers, including those church head ministers who were dressed in their service garments and attended the Service in specially designated areas, joined in singing the songs for the Service as one.
Following the Service performance, Honbu-in Yoshitaro Fukaya took the lectern to deliver the sermon. He first told a story of a friend who lost his mother at an early age—as Honbu-in Fukaya himself had done. He related that he had found God the Parent's guidance in his encounter with this friend, which was a result of a series of accidental events. Honbu-in Fukaya then explained that everything happening in our life, including difficult, sorrowful, and painful experiences, is an expression of parental guidance from God the Parent, who guides us toward the Joyous Life. "I believe that our predecessors learned the intention of God through difficult knots, or challenging situations, and carried out the teachings, especially by devoting themselves to sprinkling the fragrance of the teachings and engaging in salvation work," he said.
Honbu-in Fukaya went on to say, "It is important for us to learn and implement the teachings so that we can sprinkle a good fragrance befitting followers of this path." He pointed out that we feel safe using the same words and giving the same talk repeatedly, but this might result in sprinkling the same fragrance over and over—which would only appeal to the same people, who are already used to the fragrance. Referring to Hikaru Genji, the central character of the classic Japanese novel The Tale of Genji—who put on different cologne depending on the situation—Honbu-in Fukaya emphasized: "The worries and anxieties of people who have illnesses and problems differ enormously from one another. We thus need to listen to what is on the mind of each of them and to devote our utmost sincerity to considering how best to care for each person."
He next talked about a children-focused activity held monthly at his followers dormitory. Open to both followers and non-followers, the activity was started last October by women who belong to his grand church and live in the Home of the Parent. This activity now draws more than 100 non-follower participants, including parents and children. He also mentioned a person who started having faith in the path six years ago after he had come across followers spreading the name of God and has since then guided nine people to become Yoboku. Honbu-in Fukaya then explained: "People feel like telling others about the delicious food they ate, the beautiful scenery they saw, or the movies or music that moved them. This is an honest and straightforward response. We must not forget such an honest and straightforward attitude." He continued, "Our predecessors had both an honest desire to share good things with others and a straightforward manner—which incorporated strength and steadfastness—to continue with determination along the path no matter what happened. . . . Maintaining honesty and straightforwardness as they did, we should sprinkle the fragrance of the teachings and be diligent in the salvation of others."
Honbu-in Fukaya further pointed out that salvation work begins with reaching out to those around us and that this is an important mission of Yoboku during the "three years, one thousand days" season leading up to the 130th Anniversary of Oyasama. He encouraged the congregation by saying: "Let us reach out to people across the world, starting with those around us. If we find people in distress or hardship, let us bring them to Jiba and our churches." Then to spotlight the significance of retuning to Jiba, he mentioned the noon service performed on the 25th of each month as well as Sundays and public holidays and the Sazuke administration following the performance of the noon services, saying, "I wonder how many more people could be saved through performing the services and administering the Sazuke."
In conclusion, Honbu-in Fukaya referred to Tenrikyo Nioigake Day, which was to be conducted at the end of September: "Uniting our minds as one, let us strive to reach out to people and offer a helping hand to people so that our efforts to sprinkle the fragrance of the teachings and save others will bear fruit befitting the first year of the 'three years, one thousand days' pre-anniversary season. In doing so, we can respond to God the Parents' parental love and bring joy to the everliving Oyasama."