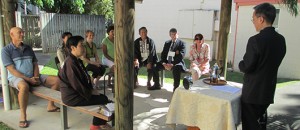 The Joyous Life Lecture, sponsored by Tenrikyo Overseas Department, was held in September, drawing a total of 927 people at 24 venues in 10 countries: Australia, France, Germany, India, Indonesia, Nepal, New Zealand, Spain, Thailand, and the United Kingdom.
The lecture was first organized in Japan by the then Yoboku Association in 1971 to convey a Tenrikyo-based way of living to those who have yet to know the path. In the mid-1970s, the lecture began to be held overseas in collaboration with the Overseas Department.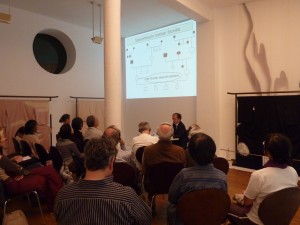 In Europe, a total of 172 people showed up at the lectures that were held at six locations in four countries, starting in Cologne in Germany, followed by A Coruña in Spain, Paris and Bordeaux in France, and London and Leeds in the United Kingdom. It was in 1977 that the lecture was held in Europe for the first time, and since 1992 it has continued to be held on a yearly basis. This year, Tenrikyo Mission Center in Europe actively promoted the event by sending out invitation cards to the people who had visited the annual charity bazaar held in early summer.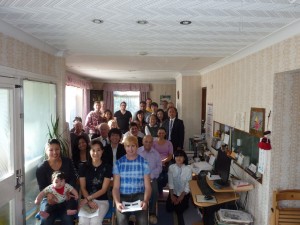 The London venue attracted 34 participants. Yayoi Mission Station Head Kazuo Hayakashi, a clinical psychotherapist and professor at Doshisha University in Japan, gave a lecture entitled "Joyous Life in the Family," in which he spoke about how to live with the mind of gratitude. He started by saying, "We are only alive now thanks to our parents, grandparents, and ancestors." He then pointed out that there were a variety of wonders in our everyday life. "Tenrikyo followers," he said, "always try to feel the presence of God the Parent in such wonders and express their gratitude to God." He then added: "Our parent-child relationships and husband-wife relationships are only possible through the providence of God the Parent. It is important for family members to give thanks to one another in their daily life." Following the lecture was a question-and-answer session, in which participants asked many questions such as "Can we achieve the Joyous Life in a single-mother family?" and "What can I do to overcome the trauma of parental child abuse?" After the lecture, participants made such comments as "I'm going to tell my family about today's lecture." and "I want to know more about the Tenrikyo teachings."
In Thailand, where approximately 1,300 Yoboku live, a total of 442 people participated in the lectures at five venues from September 7 through 15 with Mr. Mutsuharu Kikuta from the Overseas Department serving as the lecturer. Since 1977, the lecture has continued to be held almost every year at several locations in Thailand. This year, the lectures took place in the provinces of Chonburi, Maha Sarakham, Phuket, and Chiang Rai. Since about 70 percent of the participants were non-Tenrikyo, Mr. Kikuta focused on explaining the core teachings in an easy-to-understand manner.
Local followers actively worked on the promotion of the event. Shinnosuke Okabe, a lay minister of Aboshi Grand Church, who works at a public high school as a Japanese language instructor, attended the lecture with 25 of his students. "In Thailand," he said, "most people are dedicated Buddhists, and yet quite a number of students are also interested in Japanese religions. I wanted those young people to be exposed to the teachings of the path even a little through the Joyous Life Lecture. I would like to make a steady effort to spread the name of 'Tenri.'"
Rev. Nobuya Noguchi, head of Tenrikyo Mission Center in Thailand, said: "In Thailand, it is difficult to conduct door-to-door missionary work or walk around in groups to spread the name of God. In order to convey the teachings of the path, it is crucial to make steady efforts to invite new people while maintaining a network of Yoboku and other followers. In that sense, the Joyous Life Lecture is a good opportunity to sprinkle the fragrance of the teachings. There has been an increase in the number of participants each year. We would like to continue to invite people to the lecture and enhance a variety of other activities in the mission center."
In India, the lecture was held at Calcutta Church on September 1 with Rev. Masaharu Matsuda, head of Tenrikyo Mission Center in Singapore, serving as the lecturer. Attracting 20 people, the lecture was followed by a practice session for the seated service. Meanwhile, a total of 109 people attended the lectures in Sydney, Cairns, Lennox Head, Brisbane, and Melbourne in Australia, as well as Auckland in New Zealand. The lecturer, Rev. Takahiko Hayashi, head minister of America West Church, answered one question after another in a question-and-answer session that followed the lectures. He also administered the Sazuke to many of the participants upon request. The lecture in Nepal was held at Tenrikyo Nepal Renrakusho on September 7 with Rev. Shichiro Soma, head minister of Yomitsu Branch Church, serving as the lecturer. A total of 97 participants showed up despite a complete shutdown of the public transportation system due to a strike on that day. In Indonesia, Mr. Michio Harima, a staff member of the Overseas Department, gave lectures in Bali, Surabaya, Semarang, and Jakarta from September 7 through 15 with the participation of 163 people. Following each lecture, the Sazuke was administered to those who requested it.