On May 30, Women's Association members in the Republic of the Congo got together at Congo Brazzaville Church to hold a gathering in commemoration of the 100th anniversary of the Women's Association. Organized by the church's Women's Group—formed by local association members—the gathering drew 112 people.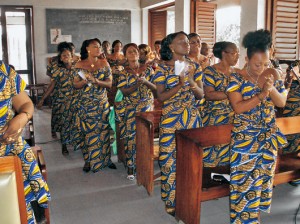 This past April, four association members from the Congo including Mrs. Maturine Bazebibaka, wife of the church head minister, had a chance to return to Jiba for the Oyasama Birth Celebration Service and the Women's Association's 100th Anniversary Convention. Yet most members were not able to attend the convention. Thus, the gathering was designed to have local Tenrikyo women gather all at once while giving them an opportunity to receive seasonal messages from Jiba.
Although a local association chapter has not been established, the Women's Group plays a leading role in the association activities of the church. Striving to help women fulfill their role as the foundation for church activities, the group has conducted various activities including practice sessions for the musical instruments for the service and doctrinal seminars as well as assisted in the Boys and Girls Association's activities organized at the church.
In line with this year's slogan of the Women's Association, local association members set a common goal for each member to invite at least one non-Tenrikyo person to join the event.
The gathering attracted some 40 non-Tenrikyo people and 20 female employees of Tenrikyo General Education Center, in addition to 35 association members including those from Pointe-Noire Mission Station, which is 500 kilometers (312 mi.) away from the church, and those from the neighboring Democratic Republic of the Congo.
After performing the seated service and the Eight Verses of the Yorozuyo with Mrs. Bazebibaka as the core, participants listened to the French version of the addresses that the Shinbashira and the Women's Association president delivered at the anniversary convention. During the gathering, they also enjoyed the church choir's performance, which set the mood for the event.