This year's Tenrikyo Hinokishin Day was observed across Japan and overseas on April 29. The theme for this year was: "Now is a season for salvation: Let's do hinokishin!" With a sense of gratitude in their minds, followers engaged in hinokishin at various places in their communities. 
 The Home of the Parent
In the Home of the Parent, about 4,000 people—including Church Headquarters' resident staff members, other staff members, and their families as well as staff members of followers dormitories and students of Tenrikyo schools and Shuyoka, the Spiritual Development Course—engaged in hinokishin at 52 locations throughout Tenri City. At 8:30 a.m., the participants assembled in the Inner Courtyard of Church Headquarters and paid respects by bowing toward the Main Sanctuary, the Foundress' Sanctuary, and the Memorial Hall. Director-in-Chief of Religious Affairs Hiroaki Yamazawa then gave a short address, saying, "I would like you to spiritedly engage in hinokishin with the mind of gratitude and sprinkle a good fragrance on the local community." After his address, participants moved to their assigned locations to start hinokishin.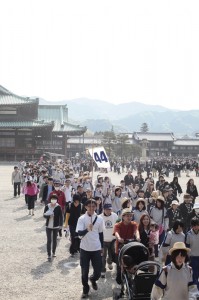 At the Oyasama's Birthplace in Sanmaiden, 94 people, including students of the English class of Shuyoka and Tenrikyo Language Institute, engaged in hinokishin. They cleaned tatami mats in the main house of the Maegawa family as well as pulled weeds outside. Among the group was Chen Yi-shan, a student of Tenrikyo Language Institute, who had first heard the teachings five years ago. She said: "I felt the kindness of friends of the path and the warmth of their smiles. Although I used to be shy, I'm trying to say a cheerful hello to people. I now have a lot of friends around me."
Participants all returned to the Inner Courtyard by 3:00 p.m., when Director-in-Chief of Administrative Affairs Yoshitaro Ueda made closing remarks: "This year's Tenrikyo Hinokishin Day is the first event to involve the entire Tenrikyo community since the beginning of the 'three years, one thousand days' season leading up to the 130th Anniversary of Oyasama. Let the high spirits of today further build the momentum with which each of us should make decisive efforts and work proactively for the salvation of others."
Sendai Higashi District, Miyagi Prefecture
In Sendai Higashi District in Miyagi Prefecture, 123 followers cleaned Tsutsujigaoka Park, which is a popular cherry blossom spot.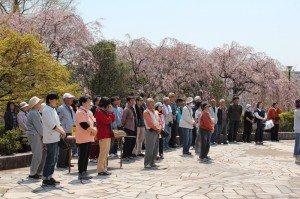 Since Japan's March 2011 earthquake and tsunami, Tenrikyo followers have played leading roles in reconstruction efforts in the district, such as removing rubble and providing meals in the shelters several times a month.
Building on its connection with people in the community, Sendai Higashi District has now started promoting new activities. Last December, for instance, the district held the Joyous Life lectures in three locations in response to a request from the community.
Tadao Sugahara, a board member of the residents' association, said, "It was thanks to Tenrikyo followers that we could resume community events that had been suspended after the earthquake."
Sendai Higashi District Chairperson Kazuhiro Sato says: "While continuing to work in support of the sticken communities, we will strive to further promote activities of the path, such as Joyous Life lectures, in anticipation of the 130th Anniversary of Oyasama."
Tosun District, Shizuoka Prefecture
Followers in Tosun District in Shizuoka Prefecture engaged in cleanup hinokishin on Mihomasaki Beach in Shimizu-ku, Shizuoka City. The beach is situated in a perfect location for viewing Mount Fuji. After the opening ceremony, a total of 370 participants began to clean the beach. Chiharu Shingai, a participant, said with a smile: "Recently, my children have become willing to pick up litter. They look very excited because they can do hinokishin here on the beach today."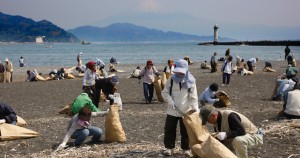 Tosun District has also taken advantage of Hinokishin Day to ask followers to participate in blood donation over the past 10 years. This year, 44 people went to donate blood. A staff member of the blood center said: "People try to maintain their health so they are suitable for blood donation. We can learn a lot from Tenrikyo's attitude of gratitude based on the teachings."
Tosun District Chairperson Minoru Saito said: "We are striving to further promote our cleanup activities throughout the local community so that local people might say, 'Tenrikyo is famous for hinokishin.' Also, with our sights set on the 130th Anniversary of Oyasama, we intend to increase the momentum in our district for salvation work through our genuine efforts to sprinkle the fragrance of the teachings."