The April Monthly Service at Tenrikyo Church Headquarters was conducted at the Main Sanctuary on the 26th with the Shinbashira presiding. The Headquarters precincts were illuminated by the gentle sunlight shining from the clear spring sky. At 9:00 a.m., the Shinbashira and the other Service performers left the Staff Quarters to pay their respects at the Foundress' Sanctuary and the Memorial Hall before proceeding to the Main Sanctuary.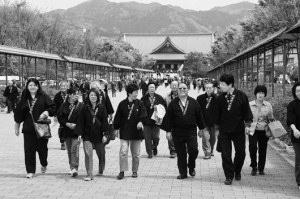 In the Service prayer, the Shinbashira referred to the many followers who returned to the Home of the Parent on the occasions of the Oyasama Birth Celebration Service and the Women's Association 100th Anniversary Convention. He said, "We became greatly spirited in the lively and vibrant atmosphere while expressing our sincere gratitude for Your daily guidance and profound parental love." Then, regarding the annual Hinokishin Day, which was to be observed on April 29, he stated, "We are resolved to translate into action our appreciation for being kept alive by Your complete providence, thereby pouring our hearts into doing hinokishin all over Japan and in many parts of the world." The joyous performance of the Kagura Service and the Dance with Hand Movements then followed as worshipers sang the Mikagura-uta in unison.
The sermon was delivered by Honbu-in Toshimi Imamura. He began his sermon with a quote from Anecdotes of Oyasama, no. 90: "[V]irtue is more deeply planted in the second generation than in the first one, and deeper still in the third than in the second. By becoming ever deeper, it will become virtue which lasts forever." He elaborated on this by stating, "This is a path that is to continue to the second generation, the third generation, and beyond, for eternity."
He later described the faith of his family as an example. His great-grandmother embraced the faith after her child was saved from illness through God's blessings. His grandfather later passed away for rebirth due to a fever at the young age of 29. His father then encountered the knot of having his eldest son pass away for rebirth as well. This caused Rev. Imamura's father to awaken to his family's causality and, after increasing his salvation efforts, he received sanction to establish a church in 1955, the year before the 70th Anniversary of Oyasama.
Regarding this, Rev. Imamura stated: "At each knot, my family deepened our awareness of our collective causality. I cannot help but be thankful for having been blessed with the splendid outcomes made possible through the guidance of God and Oyasama."
He then described Oyasama's hardship at Yamamura Palace in 1874. Although government persecution and interference increased following this knot, She donned red clothes for the first time after returning to the Residence to give visual expression to Her role as the Shrine of Tsukihi, and She also bestowed the truth of the Sazuke on followers. Concerning these developments, he said, "Oya­sama's Divine Model teaches us that, when we experience a severe knot, it is the opportune time for us to spiritedly strive for the cause of single-hearted salvation."
Next, Rev. Imamura read from a 60-year-old article entitled "Roka Tokutomi and Tenrikyo," which appeared in the inaugural issue of the monthly periodical Yoki, and said: "When I read Roka's words, 'Just because someone can explain his or her faith does not necessarily mean the person embodies it,' I had to subject myself to some self-examination. As I am in the position of explaining the faith to others, I had to think: 'Have I really mastered the teachings? Are the teachings an inseparable part of me as they should be?'"
Lastly, he noted: "We are all here today because first- and second-generation followers went through hardships and dedicated their sincerity in the cause of single-hearted salvation. However, with the passing of the generations, we have become accustomed to the splendor afforded to us by the dedication of our forebears. Our awareness of our causality then fades and our steps on the path of faith may tend to become sluggish as a result." After appealing to listeners to understand the importance of recalling the day of origin of their faith, deepening their awareness of their causality, and exerting sincere efforts in the cause of single-hearted salvation layer upon layer, he concluded, "I hope we will all be able to walk the path to spiritual maturity in high spirits and respond fittingly to the intention of God the Parent and Oyasama, who guide us toward the path of true salvation over countless generations."