Young Women's Gathering
On April 18, the Young Women's Gathering was held at Tenri University Gymnasium 1 and Tenri High School Multipurpose Gymnasium. With the Shinbashira and the former Shinbashira attending as guests of honor, the gathering drew more than 10,000 young women from all parts of Japan and from other countries. The gathering was organized by the association headquarters in its efforts to have as many young women as possible assemble at Jiba, share their joy of faith with other young women, and attend the commemorative convention together with their friends.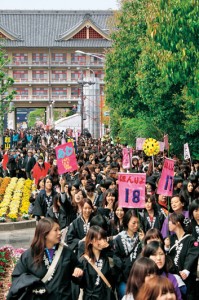 First, Women's Association President Harue Naka­yama gave an opening address. She began by talking about the Joyous Life, which is God the Parent's purpose in creating human beings; the ten aspects of God's complete providence; and Oya­sama's Divine Model, which started on the day of origin of the founding of the Teaching. She then said, "In order to realize the Joyous Life World so desired by God the Parent as soon as possible, it is essential that we children of God the Parent continue working for its realization at all times." She emphasized that what would surely bring joy to God the Parent is their implementation of the three activity guidelines for young women, which are: (1) Let's visit our churches to worship; (2) Let's do hinokishin; and (3) Let's sprinkle the fragrance.
She went on to say: "There may be some of you who consider the tasks of sprinkling the fragrance and saving others to be impossible to carry out. However, I would say that there are many ways of sprinkling the fragrance that you could do because of your youth. For those of you who have yet to receive the truth of the Sazuke, you can still engage in salvation work. There are different ways to help others be saved. . . . I would like all of you to visit your churches often, express your gratitude to God the Parent for the blessings and to Oyasama for Her guidance, sprinkle the fragrance on people around you, and engage in salvation work."
President Nakayama said, "I also believe that the years you spend as young association members is a time to work on the fundamentals that will enable you to fulfill your role as the foundation of the path." She then asked the audience, "Don't you want to develop your inner beauty and let it radiate?" She went on to say: "You can develop your inner beauty by implementing the teachings in your daily life and making an honest effort to follow the path of Oyasama's Divine Model. . . . May I ask you to maintain a state of mind that is grateful for all things, warm-hearted and cheerful, and capable of finding joy in all circumstances. And through your proactive participation in young women's activities, I hope that all of you will develop qualities befitting beautiful and splendid women."
To conclude her address, she encouraged the audience to attend the following day's 100th Anniversary Convention as well as anniversary-related events and called on them to continue exerting their efforts to bring people to attend the Besseki lecture.
Representing all young association members, Miss Akie Tsuchiya of Tamashima Chapter gave words of appreciation. This was followed by a marching drill performance by Tenri Kyoko Gakuen High School Marching Band and a dance performance by former members of Tenri High School Baton Twirling Club. After a slideshow presentation about young women's activities, a new song for young women entitled "Beautiful Smile," which was produced for the occasion of the association's 100th anniversary, was introduced. Then, two young association members went to the stage and gave inspiring speeches. For the finale of the gathering, a total of 170 Tenri Kyoko Gakuen High School students, Tenri High School students, and former members of Tenri High School Baton Twirling Club took the stage and danced to the music of "Beautiful Smile" while the audience joined together in singing the song in unison.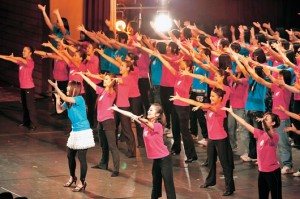 Throughout the gathering, simultaneous interpretation was provided in the following languages: Chinese, English, Filipino, French, Korean, Nepali, Portuguese, and Spanish.
Commemorative Lectures
Tenrikyo Women's Association 100th Anniversary Commemorative Lectures entitled "On the Way to Becoming the Foundation for the Joyous Life" were given by six lecturers at seven venues on April 19, drawing more than 21,000 listeners.
The lecture given by Honbu-in Yoshitaro Fukaya at Tenri University Gymnasium 1 was also broadcast live to the audience in Tenri High School Multipurpose Gymnasium. Both venues were filled to capacity and included about 1,200 followers from overseas. The entire second floor of Tenri University Gymnasium 1, which was filled with followers from overseas, was reserved for those listening to simultaneous interpretation in Chinese, English, Filipino, Korean, Nepali, Portuguese, and Spanish.
Honbu-in Fukaya started his lecture by describing how broken and dysfunctional many families have become in today's society. He cited data on the high divorce rate in Japan and in the U.S., the increase of reported child abuse cases, and the steady increase of the number of people dying a solitary death in recent years. He then said: "Some of the most urgent tasks our society needs to tackle at the present moment are to help people who have weak interpersonal ties and are suffering from loneliness and lack of meaningful interpersonal communication and to assist them in rebuilding interpersonal relationships with others. I believe that now is the time we followers of the path should rise to the occasion."
He then encouraged the listeners to exchange greetings and converse with people around them in order to strengthen their ties with them. He said: "Speaking with loving-kindness builds and strengthens interpersonal ties. So let us speak with the loving-kindness that a mother shows to a child who has fallen down, when she rushes to the child, hugs her, and asks, 'Are you all right?'"
After quoting several stories from Anecdotes of Oyasama, Foundress of Tenrikyo, Honbu-in Fukaya said: "I believe that all women are endowed with a compassionate and warm heart that embraces others with loving-kindness, which we find throughout the Divine Model of Oyasama. I would like you to make full use of this God-given ability in your family and spread the spirit of compassion, mutual help, and joyous family togetherness to people around you. . . . Oyasama continues to guide us with Her profound parental love at all times as the original mother of all humanity. Let us convey the heart of the Parent to as many people in the world as possible."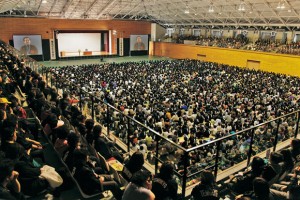 He concluded his lecture by urging the audience to become more proactive in helping others and to attain a level of spiritual growth that would allow them to feel grateful for every opportunity to help others.