On February 9, Tenri Elementary School held an annual school event called "Crossing the Jusan Pass." The event provides the school's sixth graders with an opportunity to follow in the footsteps of Kokan, Oyasama's youngest daughter, who crossed the pass to spread the name of God the Parent in the city of Naniwa, now Osaka. A total of 117 participants walked over the pass as they followed a portion of Kokan's return journey, covering a distance of about 30 kilometers (18.64 mi.). All of them successfully completed the walk, which ended at the Main Sanctuary of Church Headquarters.
Although light snow fell early in the morning, the sky became clear before their departure. At 8:30 a.m., the students left Hyotanyama train station in Higashi-Osaka City and began to walk briskly toward the Jusan Pass. Along the way, they sang the songs for the Service, led by, a banner bearing the name of God, Tenri-O-no-Mikoto.
The event was initially organized 32 years ago, in 1981, as part of the extracurricular activities of the school. For the past 10 years, it has been an annual school event for sixth graders who are soon to graduate. Principal Goto says, "We hope that the experience the students gain through this event will provide emotional and spiritual support in their future."
The students were accompanied by 22 parents. A mother, who joined the event with her husband, said with a smile: "We are walking with our third child today. We also walked with our elder children before. The event has been a great opportunity to talk with them about things we do not usually do, such as how our family came to the faith."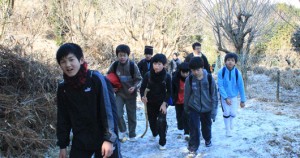 About an hour after their departure, the participants came to a steep incline. While saying, "It's tiring," the students seemed to enjoy walking. Suddenly, one of them said excitedly, "I got a good cane!" after finding a tree branch of an appropriate size. On a partially snow-covered section, they cautioned one another saying, "Be careful not to slip and fall on the ice."
After singing the Eight Verses of the Yorozuyo near the top of the pass, the participants resumed their walk to Jiba. Along the way, they took some breaks, including a lunch stop.
Later, one of the students began to pick up trash. Following suit, others spontaneously started picking up trash as well. The collected trash eventually filled as many as two big bags.
About five hours after they started walking, the participants passed by the Horyuji Temple in the town of Ikaruga. The students showed signs of fatigue, and some of them were limping slightly. Nevertheless, they never stopped singing the songs for the Service.
At 5:00 p.m., the participants arrived at the Main Sanctuary. They went to the South Worship Hall and offered a prayer of gratitude to God the Parent for their safe return.
Harukazu Izutsu, a student, said: "Although the principal gave us a lecture on the Jusan Pass two days ago, the actual walk was a lot harder than I had imagined. It was challenging but also rewarding for me." Naoko Iburi, another student, said, "I am impressed that followers in the old days used to cross that pass on foot to sprinkle the fragrance of the teachings and to return to Jiba."