Beginning on May 29, the Tohoku and Hokkaido bloc of Tenrikyo Disaster Relief Hinokishin Corps (TDRHC) assisted in the recovery effort in Miyagi Prefecture in place of conducting its regular training camp. Over 10 days, 1,783 corps members worked in the cities of Kesennuma and Higashimatsushima to respond to requests from local governments and residents.
Kesennuma City is adjacent to the border with Iwate Prefecture. Scars from last year's disaster are still evident as one travels down National Route 45, which runs through the city along the Sanriku Coast. There are collapsed bridges, exposed foundations of homes, and large fishing vessels. There is a constant stream of giant trucks hauling rubble and the city is nearly empty of people.
A woman in her 80s who had a part of her home washed away and is now living alone in a small prefabricated home says: "When I remember how the tsunami came up right in front of my eyes, it still fills me with so much dread I cannot sleep. I've lost all my rice paddies and fields. I have no prospects of putting my life back together."
Between May 29 and June 4, a unit comprised of members of Akita, Aomori, Yamagata, and Oyasato diocese corps was mobilized to Kesennuma. They began repairing collapsed stone statues, stone lanterns, and steps approaching a shrine in Tatsuganesan Sekizokoen Park.
The corps of Fukushima and Iwate dioceses set up camp in the Motoyoshi District of Kesennuma on the evening of June 4. They held a ceremony immediately after arriving to mark the formation of their unit. TDRHC Vice-Director Yoshiharu Nagano addressed them, saying: "All of you have repeatedly contributed to the relief efforts, starting immediately after the disaster in your respective dioceses. I would like you to do the same and work up the sweat of sincerity for the recovery effort here in Miyagi."
The unit was dispatched the next day to Minatomachi, an area near the coast. The unit helped clear bamboo and other miscellaneous fauna that had withered because of the tsunami. There was a forest of almost 300 bamboo plants in an area the size of a tennis court.
The 80-year-old man who manages the bamboo grove said, "I quietly tried to finish the job by myself but there were so many of them that I had reached my physical and psychological limit."
The corps members assigned to the site first cut nearly 20-meter (65.6-ft.) bamboo plants just above ground level with chainsaws. They then called out to one another as they knocked each of the bamboo plants down.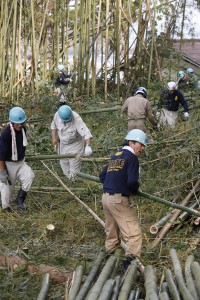 After dividing all the bamboo into three sections, they carried the pieces to a nearby dump. Withered as the bamboo plants may have been, the divided pieces were nevertheless heavy. Large beads of sweat fell from the foreheads of corps members as they carried them. The work was completed on the third day. The caretaker of the bamboo grove vigorously shook hands with the TDRHC members, saying: "Believing that the day our city will be rebuilt will eventually come, I want to continue doing all that I can and working with everyone in my community. You have given me the courage to walk with my eyes fixed ahead."
Fukushima and Iwate diocese corps members continued the repair work begun by the Akita, Aomori, Yamagata, and Oyasato diocese corps at Tatsuganesan Sekizokoen Park in addition to helping clear withered pine and cypress trees.
As residents observed the TDRHC members working, they occasionally made more requests for assistance. Members could be seen tracking the progress being made at each site they were assigned to and making fine-tuned adjustments regarding personnel and equipment.
Tomoyuki Miura, who surveys the requests in the region as a member of a public interest association called Shanti Volunteer Association, says: "One of the most pressing challenges at present is how to respond to the requests of individual residents. It was such a help when the Disaster Relief Hinokishin Corps stepped in and handled the major outstanding tasks that were beyond the reach of our volunteers."
Meanwhile, in Higashimatsushima, the Hokkaido diocese corps was thanked by Mayor Hideo Abe (text of his message is given below). The Hokkaido corps was dispatched to 16 parks, three elementary schools, and three public facilities. They used heavy machinery to remove 401 trees that had withered due to the tsunami. They also helped plant 390 trees and shrubs of eight species including azaleas, camellias, and cherries.
Message from Mayor Hideo Abe, Higashimatsushima City
The first time the Disaster Relief Hinokishin Corps came to our assistance was May 2003, immediately after the magnitude 7 Sanriku Minami Earthquake struck. Having had such a connection, we requested your help after the March 2011 earthquake and tsunami.
You responded flexibly according to our residents' requests and poured your energies into the recovery effort. You gave our city much reassurance as we watched you in blue helmets working up a sweat over many days on our behalf. You helped give us the courage to move forward.
Presently, while many challenges still remain, a sense of normalcy is slowly returning to our city. To think that this was due to your exhaustive relief efforts, I cannot thank you enough.
I believe that the most we can do to show our appreciation is to work together and make a full recovery so we may say out loud in the near future, "Higashimatsushima City recovered precisely because the Disaster Relief Hinokishin Corps came to help us."
Source: Tenri jiho, June 17, 2012, p. 6.