Brazilian Followers' Seminar, which is intended for Brazilian Yoboku and followers residing in Japan, was held at Tenri University Furusato Assembly Hall on April 30, with the participation of 119 people.
Now in its 17th year, this annual event is designed to respond to the needs of Brazilian followers who have difficulty in staying connected with the path due to the fact that their churches are located in distant places.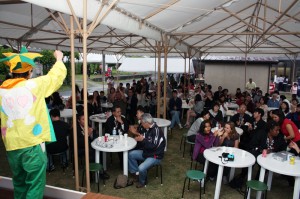 After greetings by Bishop Yuji Murata, Latin America Section Chief Yoshio Uchida delivered a speech. "It is necessary for us to express gratitude in order to build better husband-wife and parent-child relationships," said Rev. Uchida. "Let us say 'Thank you' to each other as we go about our daily lives."
The participants then watched a video about the 60th anniversary of the Mission Headquarters in Brazil, which took place last June. Afterwards, they attended a welcome party at Tenrikyo Overseas Department.