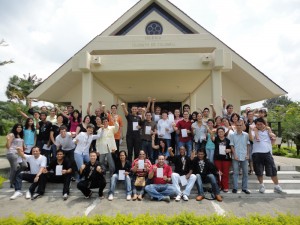 On May 20 and 21, Tenrikyo Colombia Center offered two courses: The Doctrine of Tenrikyo Course and a Doctrinal Course for Beginners. A total of 50 participants attended the two courses.
In preparation for the 40th anniversary of Colombia Center held this March, center members redoubled their efforts to nurture human resources. Activities that were introduced to this end included church sleepovers, karate lessons, and the inauguration of a fife and drum band. The two courses offered this time were designed to help younger members to deepen their understanding of the teachings.
Ten people attended The Doctrine of Tenrikyo Course, which was geared for Yoboku. The course program included service dance and musical instruments practice in addition to lectures on The Doctrine of Tenrikyo.
Forty people, who included some visiting Colombia Center for the first time, attended the Doctrinal Course for Beginners. The course program consisted of lectures entitled "A Thing Lent, A Thing Borrowed" and "The Service and the Sazuke," which covered fundamental aspects of the teachings. Service practice and hinokishin activities including cleaning the center were also held.
Rev. Naotaro Shimizu, head of the Colombia Center, said: "It is our hope to further the path in Colombia in unity of mind by conveying the joy of faith to people in the community through the activities we introduced in the season leading up to our 40th anniversary."
Source: Tenri jiho, June 17, 2012, p. 5.