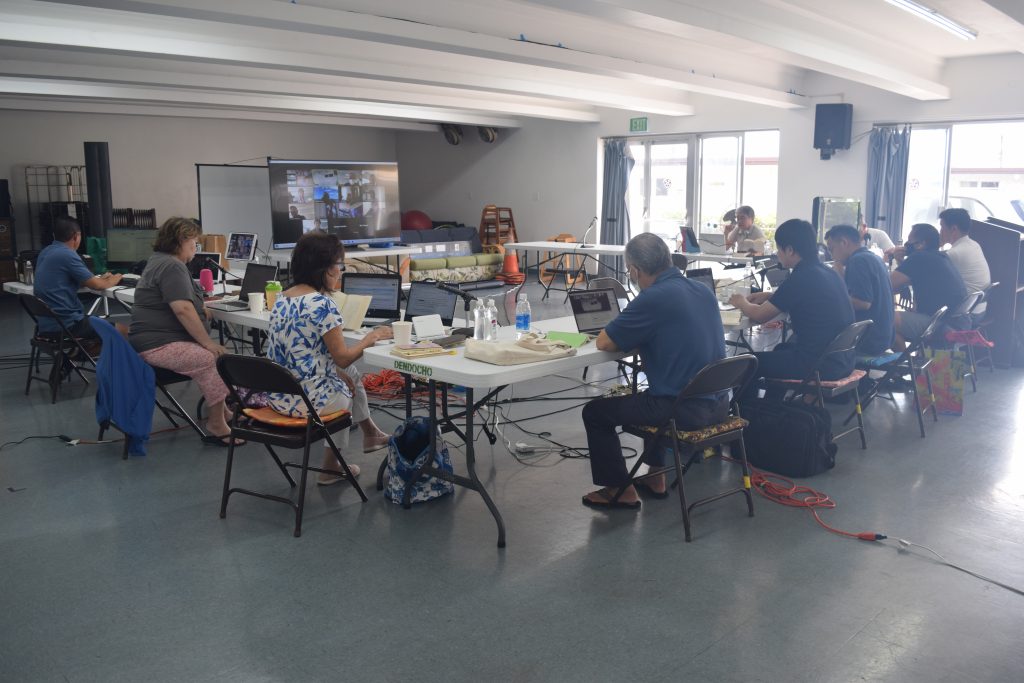 The 2022 English translation conference, organized as part of the project to retranslate Anecdotes of Oyasama, was held at the Mission Headquarters of Hawaii from October 31 to November 4. This project was launched on the initiative of the translation committees of the America and Canada Diocese and the Hawaii Diocese and attempts to produce a more accessible translation than the current version published in 1977.
The English conference was held as a primarily in-person event for the first time in three years after being held online due to the pandemic. The five-day hybrid conference was attended by some at the Mission Headquarters of Hawaii and by others via Zoom.
There were 23 participants in total. Attending from the Hawaii translation committee were Rev. Colin Saito, Rev. Tsunenori Ichise (Zoom), Rev. Setsuo Kakitani (Zoom), Rev. Tad Iwata, Ms. Taeko Nakao, Ms. Janyce Imoto, Mr. Daniel Higaki, Ms. Joy Robinson, Ms. Rumi Miyauchi, and Mr. Jason Miya­uchi. The participants from the Mainland translation committee were Rev. Marlon Okazaki (Zoom), Rev. Takahiko Hayashi, Rev. Michael Yuge, Rev. Hamilton Niwa, and Rev. Hiroko Okazaki (Zoom). From the Overseas Department, Translation Section Chief Masanao Naka­yama and Mr. Akihiro Yasuda took part in the conference on site. Also, Mr. Yoshinori Onishi, Mr. Yoshinori Okahashi, Mr. Masahiko Okamoto, Mr. Masato Kato, Rev. Motonao Yasui, and Ms. Atsuko Okamoto joined the conference from Japan via Zoom.
The conference benefited also from the dedicated work of many others who had contributed their first drafts and those who had proofread them beforehand. All participants in the project sincerely engaged in the retranslation efforts while contemplating the Divine Model and the parental love of Oyasama.
This year, the two-day online conferences were held via Zoom three times: January 30 and 31; May 29 and 30; and July 31 and August 1 (all in Japan time). So far, more than 170 stories in Anecdotes of Oyasama have been discussed, and this project is expected to continue next year to review the drafts of the remaining stories.