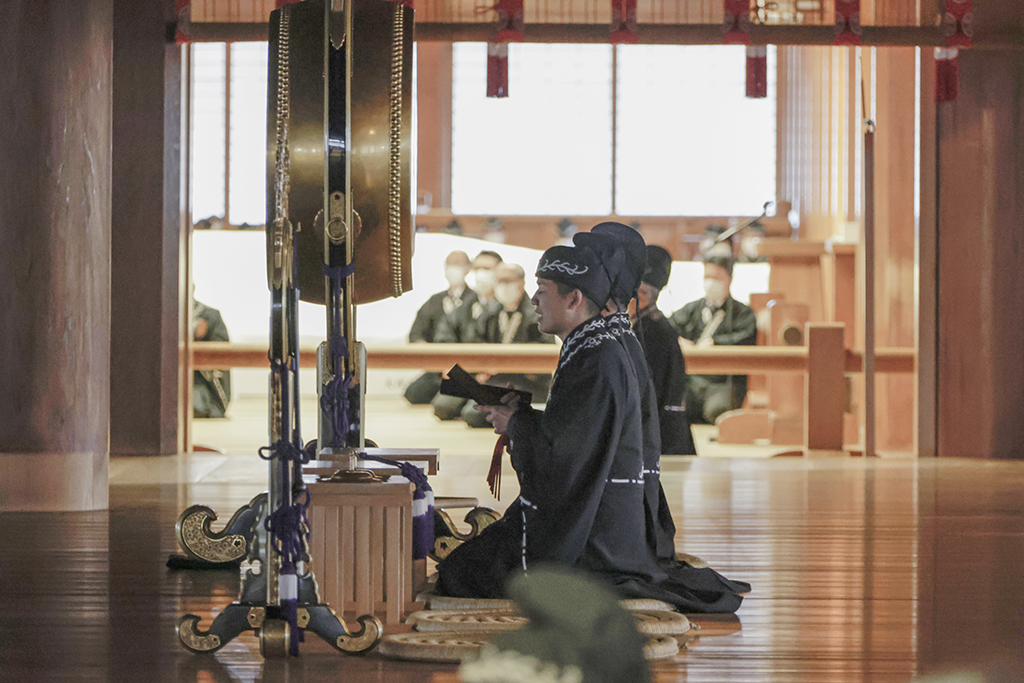 Tenrikyo Church Headquarters conducted a prayer service on March 1 for an end to the spread of the novel coronavirus infection and for the recovery of those affected, providing an opportunity to pray in unity of mind and to reaffirm our understanding of the meaning of receiving such blessings. This prayer service has been performed at noon on the 1st of the month as a rule since April last year.
On that day, as a measure to prevent the spread of infection, the number of worshipers inside the Worship Halls was limited, and benches were available in the area in front of the South Worship Hall.
At 12 noon, Successor-Designate Daisuke Nakayama ascended the upper dais with Director-in-Chief of Administrative Affairs Zensuke Nakata to lead the prayer service. Rev. Nakayama played the wooden clappers while Rev. Nakata used the counter to assist him.
Preceding the performance of the service, Rev. Nakata addressed the congregation.
At the beginning of his address, he referred to the address given by Director-in-Chief of Religious Affairs Yoichiro Miyamori at the February prayer service for an end to the spread of COVID-19.
In light of Rev. Miyamori's message that the time has come for us to regain the bonds of mind that were severed by COVID and to make up our minds to engage in salvation work, Rev. Nakata said: "What is God the Parent's intention for us that is being conveyed through the knot of COVID? It is important for those of us who are Yoboku to continue to ponder over it as we make efforts to move toward the next stage of spiritual growth."
He then announced that as of March 2022, the monthly prayer service at the Main Sanctuary would end. Thanks to the development of vaccines and treatments and the progress made in understanding the virus, our fear and anxiety about the previously unknown virus have been reduced, he noted before saying that individual Yoboku and churches are also performing prayer services and that things have considerably calmed down around us.
Thus, he emphasized that now is the time to prepare ourselves for Oyasama's 140th Anniversary, which is four years away. Saying that Oyasama's anniversary is a season that can serve as a springboard for us to take great strides along the path of spiritual growth by engaging in salvation work, missionary work, and hinokishin with a sense of gratitude and indebtedness for the daily and constant divine blessings, Rev. Nakata called on the congregation to increase their efforts in this regard.
In closing, noting that we are now able to carry out various activities to a greater extent than last year or the year before last if adequate measures are taken, Rev. Nakata said, "Let us pray for an end to the pandemic with our sincerity and hope that we will be able to receive further blessings by delving into the intention of God the Parent—who showed us this knot—and responding to that intention."