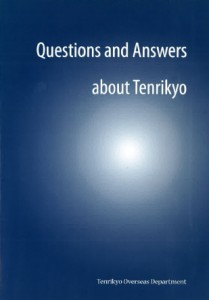 This book is a translation of Shinko mondo shu, which was published in 1990 by Tenrikyo Young Men's Association as the 32nd volume in the series Tenri seinen kyotei [Textbooks for the Young Followers of Tenrikyo]. This translation has benefited from the help and expertise of many people including the members of the Translation Study Meetings organized by Tenrikyo Oceania Centre.
The preface explains the aim of the book as follows: "[I]t is a common experience that we sometimes find ourselves unsure about our understanding of the teachings when we are asked questions about Tenrikyo or given an opportunity to explain Tenrikyo to others. . . . We have selected various questions on the cornerstones of the Tenrikyo teachings and tried to answer them one by one as plainly as possible."
This publication includes chapters such as "The Founding of the Teaching," "God the Parent, Tenri-O-no-Mikoto," "Oyasama, the Foundress of Tenrikyo," "Jiba," "The Truth of Origin," "The Mind and the Body," "Causality," "Death and the Soul," "Tenrikyo Churches," and "Blessings and Salvation." The book is complemented by a useful index.