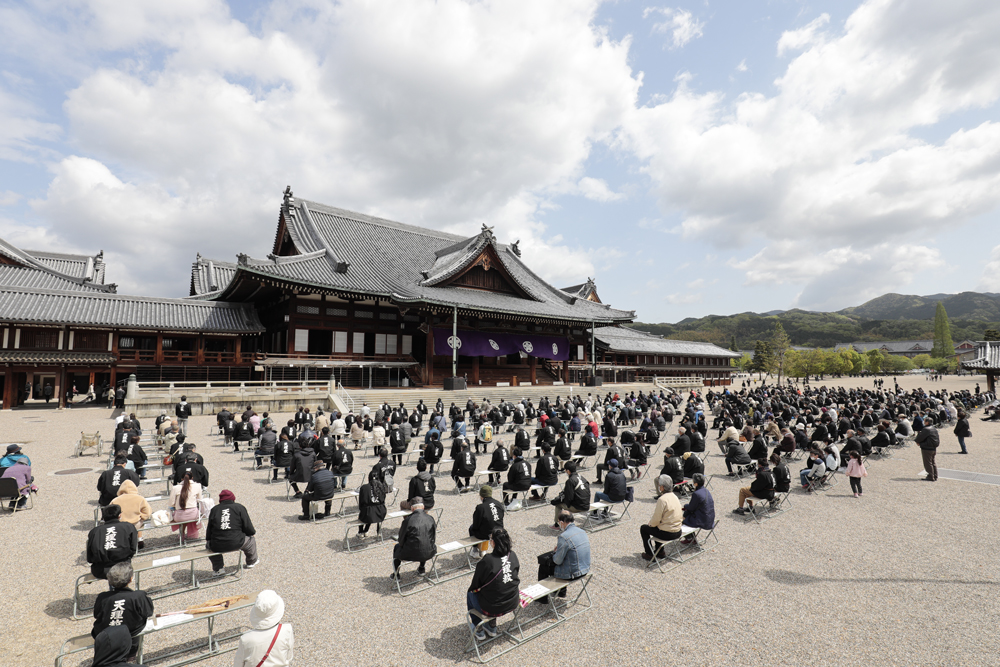 On April 18, the Oyasama Birth Celebration Service was conducted to commemorate the everliving Oyasama's 223rd birthday in the Main Sanctuary and the Foundress' Sanctuary of Tenrikyo Church Headquarters with Successor-Designate Daisuke Nakayama presiding as chief officiant. As a measure to curb COVID-19 infections, general followers were urged to refrain from attending the Service in the Sanctuary precincts. Meanwhile, the annual "Joyous Chorus" and other celebratory events were canceled.
At 9:40 a.m., Rev. Daisuke Nakayama and other Service performers left the Staff Quarters and proceeded to the Main Sanctuary after paying their respects at the Foundress' Sanctuary and the Memorial Hall. In the meantime, the Shinbashira—who is recuperating—proceeded to the Main Sanctuary from the north side of the East Corridor and joined in worshiping together inside the partition bars in the South Worship Hall.
In the Service prayer, Rev. Daisuke Nakayama said: "Assembled before You are the Service performers and other designated followers who are attending the Service in the Main Sanctuary representing all other followers, many of whom are worshiping from their places. We would like to express our sincere gratitude for the profound blessings we are receiving in our everyday lives as we celebrate Oyasama's birthday. All of us followers will settle deep in our heart Oyasama's boundless parental love, with which She went through all the hardships spiritedly to save all people throughout the world and has been guiding us since withdrawing from physical life by the truth of the everliving Oyasama. We will strive to fulfill our respective duties with a spirited mind by following Oyasama's Divine Model so as to make repayment for Your blessings."
The prayer was followed by the joyous performance of the Kagura Service, after which the Shinbashira and his wife, Harue, as well as Successor-Designate Nakayama and his wife, Nobue, proceeded to the Foundress' Sanctuary to serve a meal to the everliving Oyasama. In the meantime, the Dance with Hand Movements was performed in high spirits.
The sermon was delivered by Honbu-in Yoshiji Matsumura. In his sermon, he noted that what Oyasama taught us through Her fifty-year Divine Model is the path of saving others as well as the path that allows us to change the course of our lives by purifying our minds. "Let us follow the path toward the Joyous Life steadily and straightforwardly, the path that Oyasama taught us by making painstaking efforts," said Rev. Matsumura.
After the sermon, Successor-Designate Nakayama returned to the Foundress' Sanctuary to read a prayer to Oyasama. After extending words of celebration, he said, "All of us followers are determined to once again deepen our awareness as Your instruments and thereby engage in the work of single-hearted salvation with the Divine Model as our guiding principle while keeping our minds spirited in any situation."