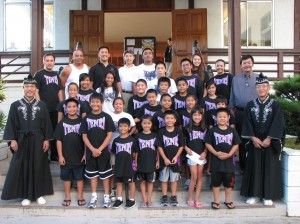 Hawaii Tenri Judo Club—managed by the Mission Headquarters of Hawaii—competed in the 2011 USA Judo Junior Olympics, held in Irving, Texas, winning 11 golds, 2 silvers, and 3 bronzes. These team results gave the club the honor of being number one in the competition.
In 1975, the year Tenri Cultural Center was opened as the cultural wing of the mission headquarters, the club was formed using a training facility built on the premises of the center. Now about 80 members, ranging from children who are as young as 5 to adults in their 20s, participate in lessons four times a week at three levels: beginner, intermediate, and advanced. In recent years, it has become one of the best clubs in the nation and has produced a lot of medalists in nationwide tournaments.
Twenty-six club members participated in the junior Olympics, which were geared toward competitors aged19 or under from around the country. Their team results, including 11 titles in 16 weight divisions, led to the club being number one in overall points among 106 participating teams.
Additionally, two club members, Mindy Chow, 17, and Dane Pestano, 16, were chosen for the national team to the Junior World Championships to be held in Capetown, South Africa, in November.
Mr. Hiroshi Toriumi, the head instructor and an alumnus of the judo clubs of Tenri High School and Tenri University, has taught at the club for 35 years since the its establishment. "Thanks to everyone including staff members of the mission headquarters, our club has become stronger as a team each year while creating a competitive environment in the club," said Mr. Toriumi, adding, "I hope some day we will have club members chosen as U.S. Olympic athletes."