This year's Tenrikyo Nioigake Day was observed between September 28 and 30, wrapping up the month that Tenrikyo Mission Department annually designates as the month to emphasize and promote nioigake, or sprinkling the fragrance of the teachings. This three-day period was designed to get all Yoboku to actively engage in missionary work. The first day of the period was also designated as the day for church head ministers to give roadside speeches. This year, in relation to the March 11 earthquake and tsunami, the department made new pamphlets that carry the message that the mind of mutual help widely exhibited in the aftermath of the disaster needs to be applied to everyday life and spread in wider circles. What follows is the Tenri Jiho newspaper's report on followers' activities to reach out to people in the disaster-hit area during the period.
Seven months have passed since the disaster. A large number of people who lost their homes or family members are still living in temporary shelters or houses.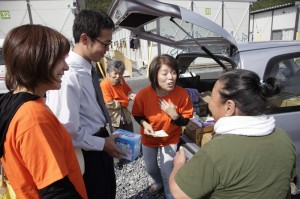 In the Ishinomaki District of Miyagi Diocese, followers visited temporary houses in the cities of Ishinomaki and Higashimatsushima on the 29th and 30th. Seeking to help the people regain their cheerfulness even if only a little, they went from door to door extending warm words of encouragement.
Many followers living in the district were affected by the tsunami. From early September, they started discussions on how to go about Nioigake Day this year. "What can we do for the people still living in temporary housing? Why don't we first listen to the worries and concerns they might have and help them along the way?" Someone's suggestion in the discussion led them to a decision to bring relief supplies to the residents in person. Initiated by female followers, they prepared many sets of items including towels and toothbrushes.
Shortly past 9:00 a.m. on the 30th, 12 followers gathered at a city park, in which about 370 temporary houses have been built. At each house, they handed relief supplies to the residents with words of support such as "You must have had a hard time" and "Let's make it through without letting our hearts sink." While answering with a smile, some residents voiced their concerns such as "Even if I want to go shopping, I don't have transportation" and "I'm worried about how to keep myself warm during winter."
One of the participants, Hatsuko Shibuya, 78, has been helping the elderly with leg disabilities by picking up their medication at the hospital and doing grocery shopping for them in the post-disaster months. "As long as my body is kept healthy, I want to attend with all my heart to each person's needs," said Mrs. Shibuya.
When the followers were getting ready to leave the site after their visit, an elderly resident came up to them and said, "I want to go to a Tenrikyo church." She continued: "As I was reading the pamphlet, my mother's face crossed my mind. She was a Tenrikyo follower." After hearing of a nearby church from one of the followers, she replied with a smile: "I believe this encounter with you folks must have been arranged by my mother. So I'm not going to waste it."
Mr. Kenji Ota, the head of the district, said, "We want to continue our sincere efforts to visit the residents repeatedly and help them with their individual concerns."