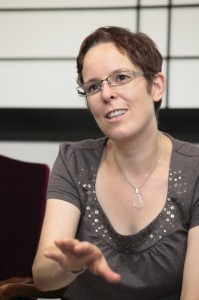 As reported in April, CNN—a U.S.-based international broadcasting company—posted on its "Belief" blog an article covering relief activities conducted by Tenrikyo Disaster Relief Hinokishin Corps (TDRHC) as well as the teaching of hinokishin, which informs its relief activities. This article was contributed by Dr. Barbara Ambros, associate professor of Religions of Asia in the Department of Religious Studies at the University of North Carolina at Chapel Hill. When she visited the Home of the Parent in July as part of her research trip to Japan, she participated in an interview and shared what she had sought to express in her article as well as how she viewed Tenrikyo's disaster relief activities as a religious studies scholar. Below is a translation of the interview published in the Tenri Jiho newspaper on August 28.
—Could you share with us what you sought to express in your CNN blog article, which was entitled "Japanese New Religions' Big Role in Disaster Response"?
Soon after the earthquake, the news media in the U.S. began contacting scholars to find out information about Japanese religions and their response to the disaster. They also tapped me as one of the scholars because I am a specialist in Japanese New Religions and serve as president of the Society for the Study of Japanese Religions, which is based in the U.S. Around that time, the news media in the U.S. provided fairly one-sided descriptions of Japanese religions' response to the disaster—e.g., a Buddhist organization was busy conducting funerals for disaster victims.
One of the significant aspects of the March 11 disaster is that more than 20,000 people have been found dead or are missing, which is quite heart-breaking. As a matter of fact, the issue of life and death is one of the major themes in religious studies.
As in the example of Buddhist funerals I mentioned earlier, the news media in the U.S. mainly focused on death-related activities of Japanese religious organizations. Every time I saw these news broadcasts, I felt strongly that those activities were not what those religions were all about and that there must be various kinds of religious organizations engaging in relief activities in the disaster-stricken areas.
I believe that one of the essential roles of religion is to provide meaning for the death of human beings while at the same time contributing to the well-being of the living and society. In that sense, a more important aspect that the news media should highlight is how religious organizations in Japan are reaching out to those people who survived the earthquake and tsunami as well as those who have lost their family members and their houses. Especially in Japan, the news media has been neglecting the relief activities conducted by New Religions such as Tenrikyo. I thought that I must do justice to those religious groups.
—How did you gather information about Tenrikyo's relief activities?
First of all, I gathered information through the websites of Tenrikyo Church Headquarters and Tenrikyo Mission Headquarters in America as well as through Facebook sites. In fact, Tenrikyo was the first that I looked up among the religious groups engaging in disaster relief activities. This was mainly because I had already had many connections with the religious group.
When I was a student at Columbia University, I became interested in Japanese culture and learned the Japanese language as well as how to play the shakuhachi (Japanese end-blown flute) at the Tenri Cultural Institute of New York. That was my introduction to Tenrikyo. Later, I went on to study religions of Asia at a graduate school and became interested in the practice of pilgrimage and religious sites in different religions. At that time, I learned about Tenrikyo's "pilgrimage to Jiba" and wrote a research paper on the religious practice.
This is my third time to visit the Main Sanctuary of Tenrikyo Church Headquarters. When I went there today, I was moved by how followers were performing the service so sincerely. Also, I was once again awed by the sheer size of the site, which I think no other religious buildings in Japan could rival. I remember that I felt very impressed by the fact that this sanctuary had been built largely through the religious practice of hinokishin, a contribution of voluntary labor through which followers express their gratitude toward the divine. Then, I became interested to know about TDRHC when I learned that its activities were informed by the teaching of hinokishin—as is indicated by its very name.
—As a religious studies scholar, how do you see the relief activities conducted by TDRHC members?
I cannot judge the entire scope of their work because I do not know enough about what they are all doing. But from the limited examples that I have seen, I can rightly say that some of the things they do are very distinctive and even go beyond what other religious groups and volunteer workers are doing. In the wake of the disaster, religious groups provided relief materials such as water and food as well as temporary shelters. But I believe that TDRHC is one of the few organizations that has in a self-sustained manner helped remove debris and rebuild the infrastructure in disaster-affected regions over an extended period of time.
The first thing I learned in gathering information about TDRHC was that the Niigata Diocese corps went to Sendai in the immediate aftermath of the disaster and offered relief materials as well as distributed water. Then, I learned through the Tenri Jiho newspaper that corps from other dioceses also went into the devastated areas and conducted large-scale relief activities by using heavy machinery. The newspaper said that their efforts were well appreciated by residents in those regions.
What surprised me the most was how members of TDRHC regularly conduct emergency drills and communicate with officials in municipal governments on top of their daily duties as followers so that they can promptly engage in potential relief activities. Moreover, TDRHC has been established not only in Japan but also overseas, which attests to how much value Tenrikyo places on disaster relief activities. I was touched so much when I learned that the Taiwan Disaster Relief Hinokishin Corps was dispatched to the areas affected by the disaster and worked together with corps members from Japan.
And yet, since I am not a Tenrikyo theologian and have never been to places where TDRHC is conducting its relief activities, I find it difficult to give a fair assessment to the religious significance of TDRHC—e.g., the essence of the Tenrikyo teachings behind its relief activities including the "spirit of hikokishin." But at the same time, it would be fair to say that TDRHC is making great contributions to the reconstruction efforts by taking advantage of its organizing ability and skilled labor. Also, I believe that the members' dedicated attitudes are bringing a great sense of courage and hope to those affected by the disaster.
—Are you planning to continue your research on Tenrikyo's disaster relief activities, including those conducted by TDRHC?
Yes, I am planning to continue my research. I am hoping that my research will eventually help eliminate preconceptions and stereotypes about Japanese New Religions. Unfortunately, the mass media in Japan is not paying attention at all to the relief activities conducted by Japanese New Religions, which I think is a serious problem. Lack of information may lead to a situation where relief workers may not be able to reach out to those in desperate need.
I mentioned earlier that one of the essential roles of religion is to contribute to the well-being of the living and society. I believe that there are many kinds of support that religious organizations can best provide—such as psychological care for disaster survivors—in the post-disaster Japanese society. A Tenri Jiho newspaper article said that people involved in youth-nurturing programs as well as professional counselors went to such places as evacuation centers to encourage children. I really hope that religious people in Japan will continue providing a wide range of support for disaster victims.
Next spring, there will be a large-scale academic conference for scholars studying religions of Asia. At the conference, which will be held in Toronto, Canada, there will be presentations on how religious organizations have been responding to the Japan disaster. I am planning to give a presentation on Tenrikyo's relief activities, especially those conducted by TDRHC. Right now, I am trying to expand my knowledge about those activities by reading Tenri Jiho newspaper articles as well as a book entitled Kaketsukeru shinkoshatachi—Tenrikyo saigai kyuen no hyakunen [Religious people rushing to help: The hundred-year history of Tenrikyo's disaster relief activities], which offers detailed descriptions of the history and activities of TDRHC. I am hoping that my presentation will help more and more people to know about the great work that Tenrikyo is conducting through its relief activities.